by Ben Daniels (Admin) on Mar.20, 2011, under Butch Dixon
Ted Colunga is a huge mountain of a man that comes from Hungary. I've known about this amazing stud for quite some time (about 10 years) and I've been watching with great interest his progress from a young muscled dude to this gorgeous perfection of a muscular, hairy, manly daddy that we can see now.
But as if that were not enough, his cock is totally huge. Some would argue that it's not a very pretty cock, but that's what you get from Ted. Everything is much bigger at Ted's, so to speak. But would you turn down the offer to suck on that big monster? I thought not.
If I got you interested in Ted Colunga, you should head over to Butch Dixon this same second and you'll find there six photo galleries of this great hunk, along with one solo wank off video, and a new video where Ted fucks the shit out of cute, sexy bear cub Andro de Luca,
Click here to watch his entire video and set of pictures at Butch Dixon!
Butch Dixon is a fantastic site that specializes in very hot, older, masculine men. No twinks to be found here! Only rough, tough and sexy daddies who are horny motherfuckers all the time.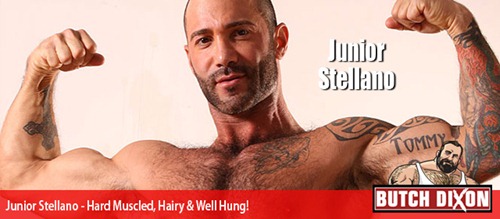 :big dick, facial hair, hairy body, Huge Body, jerking off, muscled daddy, Ted Colunga