by Ben Daniels (Admin) on Jun.05, 2011, under New York Straight Men
Vicent is a native born New Yorker of Spanish descent (not quite cause they are from the Catalan region of Spain). Vicent (not Vincent!) is in his early 40s and works as a bartender in one of the larger NYC night clubs.
He also worked as a construction worker for his former father-in-law. Vicent is a typical hot blooded ladies man. He just can't get enough of different female bodies and he has lots and lots of sex. And ladies adore him, no wonder because he has a really FAT hairy cock, which is also big and pulsating when it gets hard.
Since ladies are not always in the mood for his favourite pastime – blowjobs – he lets guys suck him off from time to time. After all, men do it better, so why deprive oneself?
Trey was very turned on by this muscular, mean straight dude. He couldn't wait to put his mouth around that big, fat latin cock and feel the cockhead pressing his throat, while Vicent's balls slam onto his nostrils.
Vicent thought it would be a good blowjob, but he didn't expect it to be so bloody perfect. Trey's cocksucking skills are far advanced and soon enough Vicent is in heaven, flexing his massive biceps and letting the orgasmic currents flow throughout his strong, masculine body.
When he was about to cum, Vicent told Trey to keep sucking and nastily sprayed his cocksucker with his hot straight cum all over Trey's face and chest.
Click here to watch his entire video at New York Straight Men!

New York Straight Men is the world's biggest collection of straight men getting their blowjobs from gay dudes!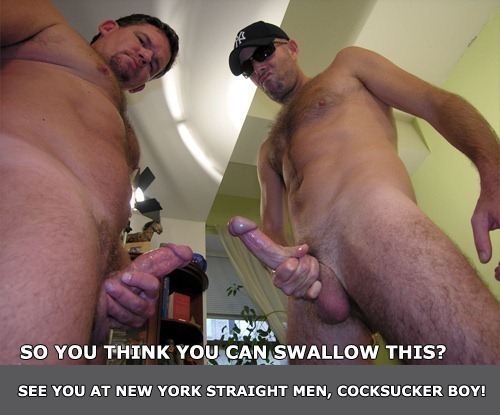 :bartender, big cock, blowjob, construction worker, cumshot, hairy arms, masculine, short hair, tough-looking, Vicent