by Ben Daniels (Admin) on Nov.15, 2011, under Str8boyzseduced
If we could describe what's happening in Tony's head with only three words, that would be:
"Girls, boobs, pussy". Yeah, our straight Italian boy is still preoccupied by the female form and there's no sign of that letting up any time soon haha!
When Tony gets undressed to his "wife beater" T-shirt and boxers, he looks just like he stepped out of an episode of "The Sopranos".
Not long after that Vinnie Russo gets down on his knees and takes Tony's cock in his mouth and sucks it as a pro. There's nothing like a good Italian sausage and Vinnie knows it. Tony begins to observe himself in the bedroom mirror while Vinnie is deepthroating his fuck stick.
I think Tony is really handsome, especially with those dark eyebrows, he gets me hard just while I'm looking at him, even when he's not naked. Tony's cock gets really hard and having it in one's mouth feels totally awesome!
Tony was watching a porn movie while Vinnie sucked him and really got into the whole thing, so he began to fuck Vinnie's head like it was some bitch's butt!
After some time he blows a really big load all over Vinnie's face.
Short preview video:


Click here to watch their entire video at Str8BoyzSeduced!
STR8BOYZSEDUCED is a great amateur site that features real straight guys taken from the streets! For a small fee they agree to have their cock professionally sucked by hot stud Vinnie Russo.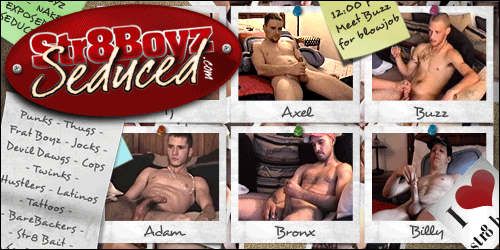 :big cock, blowjob, boxers, facial cumshot, Italian stud, masculine, straight dude, tony, vinnie russoe, wife-beater shirt