by Ben Daniels (Admin) on Dec.12, 2011, under New York Straight Men
When someone mentions the term "bad boy cop" or "badass cop" the one person that usually pops in my mind is Officer M from New York Straight Men. It's been nearly three years since this straight motherfucker entered our studio last time and his return was long overdue.
There's a saying that he often repeats "A blowjob might keep you out of jail". And we were eager to find out this truth once again. We heard he was very, VERY busy with many, MANY women in the past several years. He sure is the kind of cop we all like – masculine, aggressive, with an attitude and with an even bigger, penetrating cock.
He told us he was looking forward to using our new cocksucker's mouth. He had heard Trey is quite a good cocksucker and he was eager to try him by himself. Officer M has a really big dick. It's not only long, it's also thick and demands utmost respect. It's probably the biggest dick we've ever encountered actually. Trey knew that he had to take some time and prepare himself mentally for this new challenge in advance, because when the badass cop whips out his monster, it might be too late for that!
Officer M was demanding as usual, and made it clear that this was all for his pleasure only, and that Trey served him well. After quite a lot of cock stuffing deep into Trey's throat (you gotta see this) Officer M sprayed Trey with his abundant cop semen all over his face, covering even his eyes!
Short preview video:
Click here to watch his entire video in perfect HD quality at
New York Straight Men!
New York Straight Men is the world's biggest collection of straight men getting their blowjobs from gay dudes!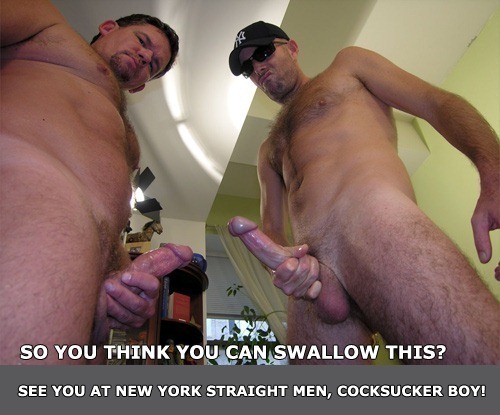 :big cumshot, blowjob, cocksucker, cop, face fucking, facial cumshot, hairy chest, huge cock, masculine, monster cock, Officer M, police officer, Trey