by Ben Daniels (Admin) on Mar.27, 2012, under Bareback Place
Aaron French got lucky today because he got fucked by Evan Parks whom we met several days ago when he was serviced by Seth Chase.
Evan Parks is a 24 year-old dude and we brought him to our mountain hideout fuck Aaron French's tight eager asshole. We like it raw and do it raw whenever we can – so enjoy!
As soon as we entered the room Aaron and Evan began to chit chat and it was not long after that that Aaron started to suck on Evan's dick to make it hard and ready for the penetration of his ass.
Aaron was really open and ready to get slammed hard. He bent over and awaited for Evan's fuck stick to get shoved into his ass. Evan proved to be a reliable fucker and his hard cock found its way to Aaron's ass in no time. I could tell this would be a really hard pounding.
Evan was truly excited about being able to fuck someone raw. Using condoms is really unpractical and distracting. Raw is the way to go, it's how the nature intended thing to be, right? Evan was so horny and worked up that he almost shot his load after only about 30 seconds. Luckily, he stopped before he cummed and breathed some air to prolong the orgasm.
Aaron changed his position slightly and pushed his butt even higher into the air. Evan fucks him but cautiously, making sure not to cum too soon.
Evan began to fuck Aaron real hard, it was fantastic to watch them in such a fuck frenzy. Aaron's own cock began to ooze cum because of Evan's forceful thrusts and hard fucking!
After several minutes Evan tells us that he can't hold it back and needs to cum. He pulls out of Aaron's ass and shoots a big load onto Aaron's hole. Then he puts his cock back into Aaron's ass and pushes it all the way to his balls.
Aaron was so excited and turned on by the fact that he had Evan's cum inside his ass that he shot a magnificent load all over the sofa. So lots of cum in this video – cum in Aaron's ass and lots of Aaron's cum on the sofa!
Short preview video:


Click here to watch and beat off to their whole video on BareBackPlace!
Barebackplace features only amateur men getting fucked bareback, hard and raw, with lots of internal cumshots, creampies and cumeating. If you decide to join them, you will also get free subscription to SuckOffGuys – a site devoted to amateur blowjobs and cumeating!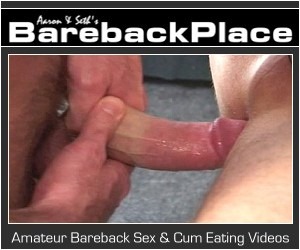 WARNING: This post contains descriptions and footage of bareback (unprotected) sex. Please be advised that this site does not encourage or condone bareback sex unless the participants are tested, live in a monogamous relationship and/or are fully aware of the dangers of acquiring HIV and other sexually transmitted diseases through practicing sex without condoms.
:Aaron French, bareback fucking, big cumshot, blowjob, Breeding, cum splatter, Evan Parks, nice big cock, Raw fucking