by Ben Daniels (Admin) on May.05, 2012, under New York Straight Men
Our superhung Italian friend Tony (the pizzeria man) has a hot and equally hung Italian friend called Vito.
Vito actually works in Tony's parents pizzeria and is a good friend of Tony's family. One day Tony spilt the beans and said that he had his cock blown by a guy over at our place in exchange for some money. At first Vito couldn't believe it – it was just too improbable! Vito didn't mention the whole thing to Tony for a couple of weeks, and thought that Tony was just "yanking his chain".
But Tony insisted that he was dead serious and suggested Vito could try the same thing because it is easy money, plus you get the best blowjob of your life. But Vito was still shocked that Tony let a guy suck his dick!
One night Vito was very horny and low on cash, so he texted us. And as they say, the rest is history. Sometime towards the end of April Vito came to our place all tanned and wanting to do a shoot for us.
Vito's dick is equally huge as Tony's. I wonder if there's something in the Italian air or genes that makes their men's dicks grow so big! Anyway, Vito had a raging hard-on as soon as his pants were dropped and it Trey just started to suck his dick without much in the way of introduction.
Like pretty much all straight guys, Vito was concerned that he wouldn't be able to have a proper hard-on or that he couldn't cum while being sucked by a dude, but it turned out he was wrong on all accounts. Vito's huge cock was more than ready and Trey sucked it like a champ. It's always a pleasure to be able to feast on such a huge manly dick and Trey certainly appreciates it.
So in the future I hope we'll be able to bring both buddies – Tony and Vito – so that they could have their cocks sucked at the same time. I am sure it will be a sight to remember, and I'm eagerly awaiting this.
Short preview video:


Click here to watch his entire video in perfect HD quality at
New York Straight Men!
New York Straight Men is the world's biggest collection of straight men getting their blowjobs from gay dudes! These men are usually truly straight but they love getting head from a gay guy because it feels so much better than whatever their girlfriends can do. These men are not the Hollywood type cuties, they are Real Men!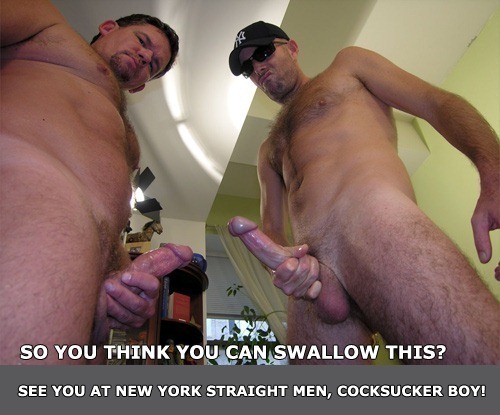 :blowjob, cumshot, hairy chest, hairy legs, handsome, huge cock, hung, italian, masculine, Serviced, Trey, Vito