by Ben Daniels (Admin) on Jun.02, 2012, under Manavenue
Today's super hot straight man is Trevor Gambino and he's just about as perfect as they get. I mean just take a look at those muscled hairy legs. Trevor says some of his ladies advise him to shave them off as well as the bush around his private parts, but all I can say to this is that those ladies are officially insane! Whoever cannot appreciate the full masculinity of a hairy man should not be allowed to give any advice on the matter so lightly.
Trevor's legs are very sexy and strong, and covered with man fur. I can cum just by looking at his legs, seriously. But let's move on. He says his feet are about size 10. His torso is also muscled and very well-built. He says he has little hair there anyway so he shaved it off. Pity but nevermind. His chest looks gorgeous this way too. Trevor's dick is probably one of his best assets. It is long, thick and hard as iron. He says it's about 7,5 inches long which would be about 19 cm. When I asked him how long will it take to make it hard he said something like a minute. But as soon as he whipped it out of his camo pants it was already at full mast. His dick is always stiff and points to the ceiling. This stud can fuck whatever comes his way, any time any place.
Trevor also likes to talk dirty, he kept asking the cameraman "Like my dick? Wanna have it in your mouth? Or in your ass?" etc. Love this dirty talk.
Trevor also does some muscle flexing, and I challenge you not to get hard when he does that and walks around the room with his hard and pulsating cock pointing straight towards the sky.
Somewhere in the middle of the shoot he asked for some lube and I told him where to find it. He lubed it up and continued to show off and walk around the room with his cock fully erect. Damn sexy motherfucker.
So, if you have a beer I suggest you open it, sit back, join Manavenue and beat off to Trevor Gambino, it's a perfect inspirational video for jacking off.
Short preview video:
Click here to watch his entire video in perfect HD quality at Manavenue!
Manavenue is an exceptionally good porn website that features masculine, cocky, muscled, powerful straight men, the type of guys that grab your attention while you're secretly ogling them in the street or in a supermarket. These tough motherfuckers are aware of their sexual appeal and want to show you everything they've got.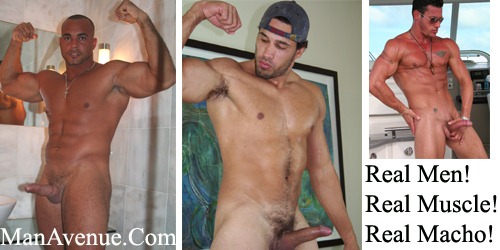 :Big Arms, big cumshot, big dick, Big feet, hairy legs, jerking off, masculine, muscled, muscles, naked straight guys, strong legs, stud, sunglasses, thick cock, Trevor Gambino, walking with erection, well-built