by Ben Daniels (Admin) on Aug.30, 2012, under New York Straight Men
Our new cocksucker's name is Paul and he has a girlfriend. However, Paul also likes to suck cock! Yep, nothing better than a good nice hard dick in your mouth.
An old friend of ours Brent texted us this morning telling us the sad truth that he isn't getting blown by his woman nearly as much as he would like. Women just aren't into cocksucking as much as we men are. It's a male art.
So Brent arrived quite horny. He hadn't emptied his balls in almost a week. His woman is down on the Jersey shore with her friends, while poor Brent was stuck in the city, overrun by hard work and duties. I say, this is the perfect moment to hook him up with our new cocksucker!
After a short introduction Brent got on his knees and right to work. Brent removed his shirt and remained in his wife-beater and boxers. Soon enough those were also removed and Brent could begin to suck his nice big dick.
Brent has a pretty big and thick cock. It's perfect for sucking! Paul was so into this blowjob that Brent could only roll his eyes and enjoy the ride.
Soon enough Brent rewarded Paul with a nice load of cum. Imagine if their girlfriends knew what the boys were doing on this hot and lazy Sunday afternoon!
Short preview video:


Click here to watch his entire video in perfect HD quality at
New York Straight Men!
New York Straight Men is the world's biggest collection of straight men getting their blowjobs from gay dudes! These men are usually truly straight but they love getting head from a gay guy because it feels so much better than whatever their girlfriends can do. These men are not the Hollywood type cuties, they are Real Men!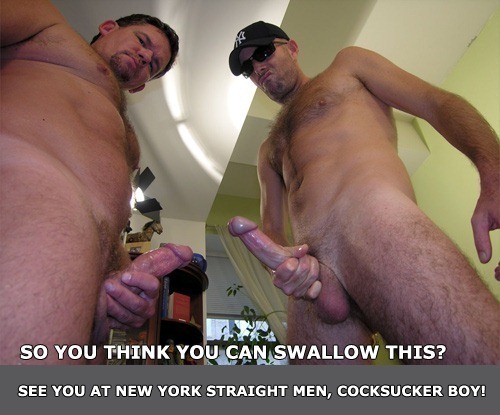 :Big Arms, big dick, blowjob, Brent, facial hair, hairy chest, handsome, married men, masculine, Serviced