by Ben Daniels (Admin) on Sep.12, 2012, under Brutal Tops
Nick and Derek are two sailors and they are pretty much always horny, but they haven't got any pussy in, like, ages so you can imagine how sex-starved they must feel.
Today they are on shore leave and, just like all seamen, their main plan is to get drunk and get laid. Walking down the street they notice a window with a red light. The image of a luscious slutty woman appears in their mind but imagine their surprise when it turns out that the slutty hot woman is actually a slutty submissive man, Martin.
The two handsome and pretty muscular Sailors (just watch those perfect chests) come to the mutual conclusion that this lowly whore of a sub calls for some bully boy action and strict punishment. The sailors drop cigarette ash in the sub's mouth as if it were an ashtray and force him to wash their sweaty armpits and hairy asses with his wet tongue.
Finally they tie the sub with ropes, and then trample over his body, teasing him about his small cock. They proceed to put their smelly feet on his face and force him to lick them clean.
Preview video:

Download this and many other horny new BDSM videos at BrutalTops!
Brutal Tops is a fantastic site for lovers of the most ferocious sexually aggressive doms in the world. These dominant men love to give orders which have to be obeyed!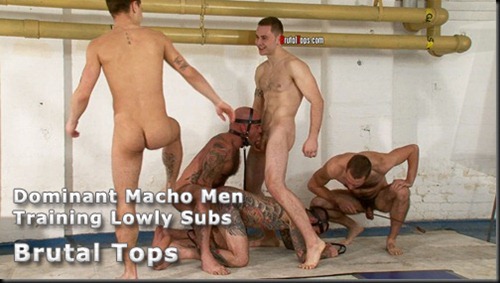 :Dereck, facial hair, feet service, foot fetish, hairy chest, humiliation, Martin, muscled, navy men, Nick, perfect chest, sailor's uniform, sailors, spitting into mouth, submission