by Ben Daniels (Admin) on Oct.06, 2012, under Bareback Place
Have you heard about that urban legend that skinny guys have the biggest cocks? Well, I have and it seems to be somewhat true. It's as if all their energy went into the dick!
Anyways, here's the latest example of this "rule", Hayden Alexander. He came over to our place for some raw fucking with Aaron French.
Hayden is a relatively small guy so that huge dick of his really looks gigantic on his small frame. Hayden has a handsome face and nicely toned body, but damn, that cock is just awesome.
Aaron goes for Hayden's cock and it gets out of Hayden's pants by itself. Aaron gets down to work and works on Hayden's ass with his tongue.
Hayden's ass is really hairy and Aaron had quite a lot of fun exploring that beautiful bush down there.
Then Aaron changes the position and goes in front of Hayden so he can suck that beautiful cock. Aaron really got into the sucking and I wonder what would have happened if Hayden hadn't stopped him by asking "Are you ready for it?" – meaning, is Aaron ready to be fucked in his ass.
Aaron goes on the sofa and Hayden pushed his man meat inside his ass. Aaron's ass was real tight, as if he hadn't been fucked at all. Only after Hayden made several thrusts did his cock begin to go in easier.
Hayden pounds Aaron's ass faster and more aggressively and increases the fierceness of his thrusts. Being a cock hungry fuck pig that he is, Aaron asks for more, so Hayden continues to fuck him hard.
Suddenly Hayden pulls out and shoots a big load of cum directly on Aaron's fucked up and stretched asshole. He puts his cock back again and shoves inside his cum, moaning as he continues to shoot more streams of cum.
Hayden doesn't stop fucking Aaron's little tight ass, and breeds him nice and good, pushing all that cum deep inside.
When he thinks that the orgasm is over, Hayden pulls out completely and leaves his cock to hang in the air, while cum drips down from the head of his cock.
Aaron got what he wanted – his ass fucked real hard and then filled with cum.
Preview video:

[jwplayer config="firstplayer" file="http://www.roughstraightmen.com/wp-content/videos/hayden_aaron.mp4″ image="http://www.roughstraightmen.com/wp-content/videos/hayden_aaron.jpg" html5_file="http://www.roughstraightmen.com/wp-content/videos/hayden_aaron.mp4″]
Click here to watch and beat off to their whole video on BareBackPlace!
Barebackplace features only amateur men getting fucked bareback, hard and raw, with lots of internal cumshots, creampies and cumeating. If you decide to join them, you will also get free subscription to SuckOffGuys – a site devoted to amateur blowjobs and cumeating!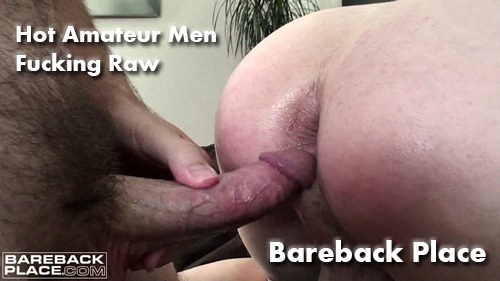 :amateur guys, bareback fucking, beard, blowjob, Breeding, cumshot, fit body, huge cock, hung boys, rimming, sperm