by Ben Daniels (Admin) on Oct.01, 2012, under Chaosmen
You might think I have a penchant for hung guys and after seeing this movie I can't say you are not right. I especially like seeing how a very big cock splits another man's ass, that's really priceless!
Brooks already had his virgin ass barebacked last time by Foster, and now I've paired him with super handsome Bentley. Bentley's pride is no less impressive than Foster's and actually I can't decide which one I like best. To top it off, Brooks himself is almost as hung as his tops so this is pretty much a perfect fuck scene.
Brooks was totally into Bentley and I could tell there was chemistry between them as soon as he went for Bentley's cock with his mouth. Someone might back off from such a giant and thick piece of manmeat but not Brooks. He swallowed Bentley's entire shaft and deepthroated that monster.
I particularly like when the two studs put their cocks one on top of each other's, essentially frotting. Both are hung like horses and OMG those two cocks look absolutely fantastic together.
Bentley identifies himself as straight and still doesn't show any emotions towards other guys, but it seems he kinda liked this frotting part (at least he didn't go limp).
Brooks took his time and adjusted his ass for quite some time to Bentley's thick aggressor, but finally he managed to stick it in his ass all the way to the balls.
Pay attention to this scene, it really does look like Bentley is going to split Brooks in two, his cock is massive, and straight like a rocket.
If Brooks thought that Bentley would be a careful and tender fucker this notion must have flown out the window the same moment Bentley began to fuck him. Bentley was utterly merciless and fucked him like a damn machine, with rapid movements and shoving his dick deep inside.
We had one spooning fuck scene which is probably the best for very large dicks. It wasn't terribly confortable so Bentley changed it soon enough into another where he could just fuck Brooks by doing push-ups. And again, that cock does look like it's going to split Brooks' ass in two. Amazing.
Brooks really enjoyed this fucking, so much so in fact that his cumshot is quite epic – he was on the verge of cumming and when Bentley shoved his cock once again Brooks shot an enormous load which flew a huge distance.
Bentley fucks him faster, not paying much attention to Brooks' cumshot and delivers a rather big load into Brooks' fucked-up hole, then pushes his cock again in Brooks' ass to seed him. Nice breeding on this one.  
Preview video:

[jwplayer config="firstplayer" file="http://www.roughstraightmen.com/wp-content/videos/bentley_brooks.mp4″ image="http://www.roughstraightmen.com/wp-content/videos/bentley_brooks.jpg" html5_file="http://www.roughstraightmen.com/wp-content/videos/bentley_brooks.mp4″]
Click here to watch their entire video in perfect HD quality at Chaosmen!
Chaosmen is a great porn site that features hot straight and bi men getting serviced or fucking their mates bareback for some cash. This site is exceptional and very unique because almost every single fucking is bareback and ends with gorgeous internal cumshot or creampie.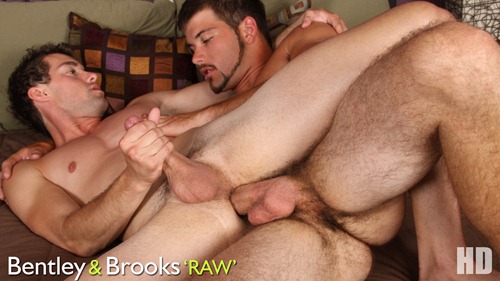 :bareback fucking, beard, Bentley, big cumshot, bisexual guys, blowjob, Breeding, Brooks, hairy chest, handsome, huge cock, hung, masculine, muscled, straight guys, sweat suit