by Ben Daniels (Admin) on Dec.09, 2012, under Brutal Tops
Things look pretty tensed up in Master Nick's prison cell. He has become buddies with Warder Guy and these two routinely train and harass poor submissive prisoners in the prison. Today they decided to release their anger on prison slut Peter.
Nick made it clear from the beginning that he wants his cock to be properly serviced by the submissive prisoner. Nick grabs Peter's head and pushes it forcefully onto his big erect dick, which causes Peter to gag and gasp for air. Masters Guy and Nick continue to train this little prison bitch by face-fucking him one by one and taking turns. They have a code name for this mistreatment – "choke the bitch".
They switch roles and tag team the lowly sub's anal and oral orifices. Peter knows that this ordeal won't stop until his Masters dump their loads. Master Nick shoots his sperm all over Peter's butt, and then collects it with his hand to force feed the lowly sub. Every drop of the precious liquid must be eaten by the sub.
Preview video:


Get the latest Flash Player to see this player.
Download this one and many other horny new BDSM videos at BrutalTops!
Brutal Tops is a fantastic site for lovers of the most ferocious sexually aggressive doms in the world. These dominant men love to give orders which have to be obeyed!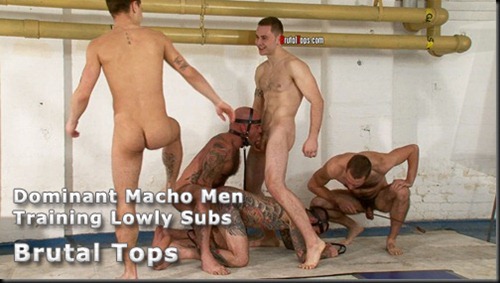 :aggressive fucking, domination, gagging, hairy chest, humiliation, masculine, Master Guy, naked straight guys, Nick Cheney, perfect chest, peter, prison bitch, Serviced, tag-team, tattoos