by Ben Daniels (Admin) on Mar.04, 2013, under BreederFuckers
Guy is a handsome, sexy and hot cricket player, beloved by women and respected by men. He is rich, privileged and, as a result of all this, stuck up.
However, the nasty thugs from BreederFuckers found this arrogant straight cricket player and decided to teach him a lesson or two! These thugs are sadists and enjoy inflicting pain on other people.
Guy is tied up almost naked, only having his tighy whities. His legs are fastened and bound together and his hands are put into a cricket gear so he can't move them.
The sadistic thugs order Guy to impale himself on various butt plugs and dildos. It is a painful process and his ego gets destroyed little by little, every time a butt plug gets shoved up his arse.
The main Thug, Adrian is unmoved and continues to give out orders and train this young, masculine and arrogant straight dude. Whenever Guy fails to comply with Adrian's demands, he knows that he would be lashed severely.
Next, Guy gets fucked in his mouth, and at the same time that big butt-plug is still being shoved in his ass. This painful experience should teach this formerly arrogant hetero dude to know his place and position, and to readily serve the men who are in charge. From an arrogant scum to the obedient cocksucker, it only takes one session.
Preview video:


Watch always fresh videos of arrogant straight men being turned into obedient cocksuckers at Breeder Fuckers!
If you prefer your porn to be on the kinkier side, you should definitely check out Breeder Fuckers (formerly known as Straight Hell). Breeder Fuckers is a premium fetish site devoted to hot straight guys being tormented, humiliated and treated without mercy by big, mean & aggressive studs!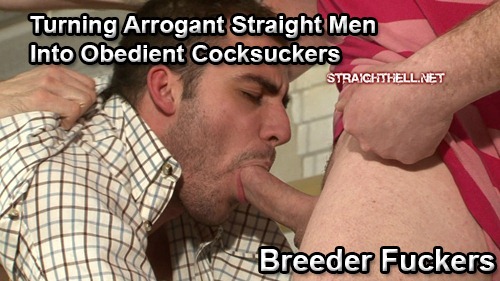 :BDSM, buttplug, face fucking, forced blowjob, hairy, humiliation, lashings, masculine, submission