by Ben Daniels (Admin) on May.05, 2013, under New York Straight Men
One of my favorite straight men who like to get their cock serviced by a dude is, of course, Officer M. This merciless cop has a stressful job and often lets both women and men suck his cock as a way to unload and relax. He is pretty rough while fucking someone's throat, though, and that's what makes watching his videos so hot. On top of that, Officer M is clearly a bad boy – masculine and tough, and his big fat dick can fill up even the biggest guy's mouth and throat, which Brock learned the hard way today.
We haven't seen Officer M for quite a while. But here he is after a rather long hiatus and he's hornier than ever! He was also eager to check out our new cocksucker (if you remember from one of my previous posts, Brock is now our cocksucker until he repays a money loan we gave him).
So, as soon as Brock started to unbutton Officer M's jeans, the dirty cop's cock began to get hard and it was fully erect in only a few seconds. This monster cock is a joy to look at, not to mention to put it in your mouth and suck it.
As always, Officer M was very bossy and demanding. He wanted complete and thorough service from the new cocksucker, and Brock didn't disappoint. Brock wanted to give his best and boy, oh boy, he managed to almost deepthroat that monster cock. Even Officer M was somewhat surprised when his entire shaft virtually disappeared in Brock's throat.
Officer M fucked Brock's mouth and throat in his usual way. I guess you can't get away with any half-assed blowjob with this nasty cop. You just have to take a plunge and swallow it as best you can –  which Brock did admirably well.
When he was close to cumming, Officer M pulled out and shot a big load all over Brock's hairy manly chest. After the blowjob, Brock said he felt like a real dirty cocksucker, which was actually what Officer M intended in the first place.
Click here to watch their entire video in HD quality at New York Straight Men!
New York Straight Men is the world's biggest collection of straight men getting their blowjobs from gay dudes! These men are usually truly straight but they love getting head from a gay guy because it feels so much better than whatever their girlfriends can do. These men are not the Hollywood type cuties, they are Real Men!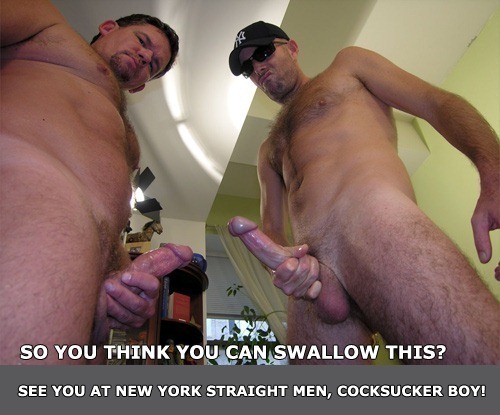 :aggressive men, Baseball cap, beard, big cumshot, brock, cops, deepthroating, face fucking, hairy legs, huge cock, masculine, monster cock, naked straight men, Officer M, police officer, sunglasses, tough guys