by Ben Daniels (Admin) on May.27, 2013, under New York Straight Men
It is my pleasure to present Officer T! He is a hot, muscled cop with blond hair and big cock – a perfect combination for our resident cocksuckers.
Officer T wanted to make some quick cash and as long as he can get a free blowjob that's cool by his book. Officer T is 35 years old and lives in New York City. He was pretty secretive about his personal life, and we totally understand that.
Officer T is totally straight and he likes to get blowjobs from girls, so he was very suspicious when our new Resident Cocksucker Sean approached his crotch.
Sean belongs to the so-called "old school" of cocksuckers. Sean actually wrote us an email and was really enthusiastic about the prospect of serving as many straight men. He even gave us his earlier references when he served as a cocksucker at another place. Damn, these old-school cocksuckers are truly professional! Anyway, we were thrilled to accept him.
As soon as Sean got his mouth around Officer T's cock, Officer T's suspicion about whether a guy could suck cock well just evaporated like a drop of water in hot blazing sun!
Not only was Officer T not suspicious about men's ability to suck cock, but he let go of all inhibitions and started to fuck Sean's face. Officer T groaned and moaned and finally shot his cum directly into Sean's mouth. Of course, like every real cocksucker, Sean swallowed every drop of cop's jizz.
Click here to watch their entire video in HD quality at New York Straight Men!
New York Straight Men is the world's biggest collection of straight men getting their blowjobs from gay dudes! These men are usually truly straight but they love getting head from a gay guy because it feels so much better than whatever their girlfriends can do. These men are not the Hollywood type cuties, they are Real Men!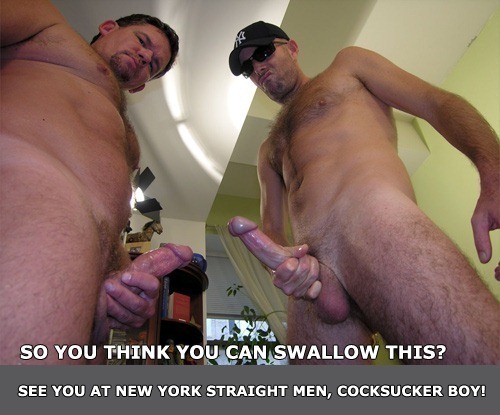 :beard, blowjob, cocksucker, face fucking, masculine, muscles, naked straight men, Officer T, Sean, Serviced, sunglasses, swallowing cum, trackies