Tag: Brandon Bronco
by Ben Daniels (Admin) on Apr.30, 2015, under NextDoorMale
I fell in love with Brandon Bronco ever since I saw his straight porn videos where he bangs chicks (take a look here and here) and have been looking forward to seeing him in some solo video, or even with guys. It seems we're going to wait some more time for the first gay vid with him, but for the time being we have this solo jerkoff session, which was pretty refreshing to watch.
Brandon certainly has a great, infectious smile and disposition. When you are listening to him, the first impression is that he's a pretty positive, enthusiastic and well-intentioned guy. It appears as if he's smiling almost all the time! Brandon has a gorgeous muscular body and a fantastic, beautiful huge dick to match! Is he constantly smiling because he has a huge dick? Maybe, who knows! (just kidding)
Anyway, Brandon used to be in the Army and served as a soldier during several years. However, he didn't like the prospect of having to spend all his life in that profession and opted for a less adventurous and more relaxed life. His favorite hobby or sport if skateboarding and if you listen to his interview he explains how he started with that.
Brandon likes to take it easy… he's chilling by the pool, teasing us. He goes next to a covered cabana and kicks back on the bench there. Soon enough his huge monster cock is released and he starts stroking it slowly. He plays with it, letting it hit his stomach from time to time.
It was a lazy summer afternoon, just perfect for a hot cock stroking session. He is now very close to the point of no return, and starts edging himself for some time. When he can't hold it any longer he shoots his load and makes a complete mess on the cabana floor – not that we had anything to object to that!
Preview video:
Click here to download his entire videos in perfect HD quality from Next Door Male!
Next Door Male is a porn site that features young masculine and usually straight or bisexual men who have that typical "next door guy look". If you like your men natural, buffed up, hung and manly then this is the site for ya!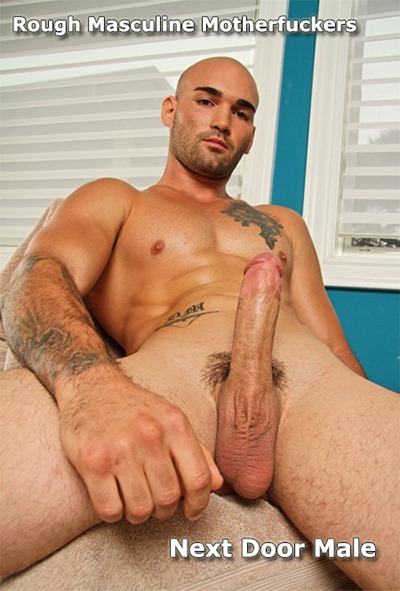 4 Comments
:Big feet, Brandon Bronco, handsome, jerking off, monster cock, muscled, nature, outside, skateboard, smile, Soldier, straight men, tattoos, young stud
Click For More...
by Ben Daniels (Admin) on Dec.05, 2013, under Next Door Hookups
It was sometime during last Summer that I saw Brandon Bronco for the first time. His striking good looks, huge cock and charming personality immediately won me over and I just had to make a blog post about him – you can see it here on one of my other blogs that's devoted to straight men in straight porn.
Naturally, I was pleasantly surprised when I saw today that Brandon made another video. This time round he got to fuck Courtney Shae whom he had met at a party last night. Courtney couldn't resist this hot masculine man and they went to his place to have some wild fun in bed. It turns out they were naughty and fucked like horny rabbits until dawn! One thing, though, that is worth mentioning: A friend of Brandon's told Brandon that if he wants "morning nookie" the best way to get it is to be a gentleman and serve Courtney breakfast in bed. That's the secret recipe for the proverbial morning fuck that men always yearn for.
Unfortunately, Brandon finds out that he has only one tangerine and some orange juice in his fridge. He gets an idea and goes into his backyard to pluck a rose and puts it along with the humble breakfast to tell Courtney that it has been prepared with love and care. Courtney is thrilled with the unexpected present and Brandon is on his way to score again! And that's no wonder because who in his or her right mind would not want to get a hold of that huge thick cock? Brandon's cock gets fully hard in seconds and Courtney is already giving him a great blowjob. Nothing better than an early morning blowjob session!
It is incredibly hot to watch Courtney swallowing Brandon's massive fuck stick while his balls are pumping testosterone in an overdrive mode, as it is usually the case with men early in the morning. Soon enough Courtney is completely enveloped in this man's powerful love grasp and can feel the electricity flowing through their both bodies.
Brandon inserts his rod deep inside her pussy and starts to fuck her passionately. First he fucks her from behind, but that was just the beginning. Obviously, these two love birds love to fuck and they like to push their limits. They change several positions and eventually he shoots his load all over her stomach and tits.
Preview video:


Click here to watch their entire video in HD quality at Next Door Hookups!
Next Door Hookups is a site that features truly straight guys who like to fuck their girlfriends hard and raw. These motherfuckers are really manly and the action is hot!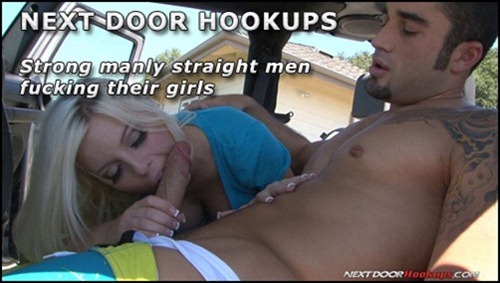 Leave a Comment
:beard, Brandon Bronco, Courtney Shae, huge cock, masculine, morning blowjob, morning fuck, muscled, straight sex, tattoos
Click For More...