Tag: Captive
by Ben Daniels (Admin) on Apr.18, 2016, under Icon Male
Here's a nice military story that can transport us into the world of wild imagination. Trent Ferris is keeping an eye on his prisoner Ty Roderick while lieutenant Alexander is questioning the other prisoner. Since the general mood seems to be low, Ty proposes that Trent and him should play a little game. He tells Trent to close his eyes and imagine himself at some other place, doing something completely different. Ty has pretty wild imagination and soon enough he constructs a virtual reality for Trent in which Trent is able to take advantage of him as a prisoner owing to his position of the main guard.
Well, Trent accepts the fantasy and goes near Ty and crouches down to be on the same eye-level with him. Little by little, their lips come closer and the guys kiss each other passionately. Trent wants to feel this prisoner's cock fully, but in order to get there he knows he has to unlock Ty. Finally free, Ty takes hold of Trent's head and kisses him even more passionately. Piece by piece their military clothes are gone and Trent gets down on his knees to suck Ty's magnificent big cock. He wants that cock deep in his ass, and he works with his mouth and throat to make it nice and hard.
Ty also plays with Trent's ass while getting blown, and tries to loosen it up a bit before shoving his cock inside. Soon after that, Ty penetrates the young captor and starts fucking that ass without mercy. Now Ty is in control and wants to get even with Trent for all the days and hours of humiliation. He doesn't spare that ass much but pounds it hard and deep. He then flips Trent on his back and lifts his legs up in the air so he can fuck him in that position deeper.
After some time Ty can't hold it any longer and pulls out. He sits next to his captor and the two men stroke their hard dicks. Ty is the first to shoot his load, then Trent follows suit and shoots his jizz all over himself.
Back to reality, and Ty is still handcuffed, it was all just a daydream. Or, was it? Sometimes it's hard to distinguish reality from fiction, especially when horny men are involved.
Preview video:
Click here to watch or download their entire video in HD quality at Icon Male.
Icon Male is a hot new porn site from Next Door Studios which focuses on the fantasy that involves sex between a younger man and a more mature man. Lovers of sugar daddies should be quite pleased with this website. The men are really very hot, and both mature and younger guys are well cast. I can also say that the production quality is very high.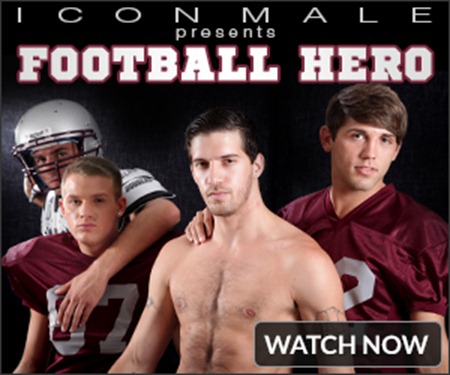 1 Comment
:aggressive fucking, anal sex, beard, blowjob, Captive, captor, gay for pay, hairy guys, huge cock, military men, muscled, muscles, Serviced, soldiers, Trent Ferris, Ty Roderick, uniformed men
Click For More...
by Ben Daniels (Admin) on Mar.24, 2011, under CFNM
Two horny and mysterious ladies stopped mechanic Callum while he was on his way to work. The aggressive women captured this dumb mechanic in an abandoned warehouse and tie him up so that they can do whatever crosses their dirty minds. However, thick-skinned Callum realized these ladies were up to no good only when it was already too late.
The ladies cut the clothes from his body so that they could enjoy it in its full masculine power and glory. And especially his sizeable cock and balls that hang now out in the open. And that's where the main party begins for this lad who may be dim-witted but is defo hot as hell and manly stud.
Click here to see the video of The Mechanic at Clothed Female, Naked Male (CFNM).
Clothed Female Naked Male (CFNM) is a very hot site for lovers of truly straight guys. It's a little tongue in cheek but the men are fuckingly hot!
Leave a Comment
:big cock, buzz cut, callum, Captive, hot body, masculine, Mechanic, short hair
Click For More...