Tag: Charlie Harding
by Ben Daniels (Admin) on May.14, 2013, under Men Dot Com, Str8 to Gay
Andrew Stark is a police officer and today he's having a hot issue at hand, so to speak. Namely he's surrounded a house in which Charlie Harding keeps his ex girlfriend a hostage.
Since Andrew's moto as a police officer is "to serve and protect", and the best thing that popped into his mind that could save the hostage was to offer his ass and mouth to the criminal (Charlie Harding). Charlie Harding accepts Andrew's offer and starts fucking his mouth first, then proceeds to his ass.
If you like the police officer theme and their uniforms, this is certainly a movie worth checking out. Not to mention the fact that both Andrew and Charlie are hot, masculine and undoubtedly have good chemistry in this movie.
Preview video:

Click here to watch Andrew & Charlie's entire video in perfect HD quality at Str8 to Gay!
Str8 to gay is a new site – a part of the MEN.COM family of sites – that explores situations when a straight guy is dissatisfied with his girl or wife. Would his gay buddy do a better job where his wife has failed? Of course he would!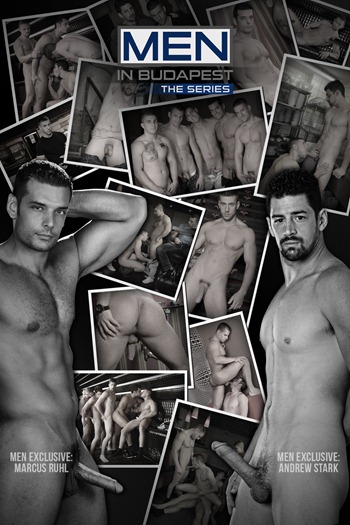 1 Comment
:aggressive fucking, Andrew Stark, beard, blowjob, Charlie Harding, handsome, huge cock, hung, manly, police badge, police uniform
Click For More...
by Ben Daniels (Admin) on Dec.24, 2012, under Jizz Orgy
Well, I'd be damned. If there's one fantasy that always gets me hard in no time then it's either a row of hot uniformed soldiers with their hard dicks sticking out of their military uniforms, or a similar row of cops or prison guards in their uniforms and with the cocks sticking out.
What else can you do in such a situation but get on your knees and try to orally satisfy as many hard schlongs as possible? My mouth is watering and my junior is throbbing hard in my pants as I'm writing about this fave fantasy of mine.
And lo and behond, this fantasy is nicely portrayed in today's update from Men. Johnny Rapid plays a young and inexperienced prison inmate who got himself into trouble during showering with other inmates.
Prison guards Charlie Harding tried to resolve some problems with the aggressive inmates but he can't cope with them all by himself so he calls for backup by announcing the code 69. When the other inmates are gone prison guard Charlie realizes that Johnny's ass looks too damn inviting and shouldn't be left untouched.
His colleagues Colby Jansen and Jimmy Johnson come to the rescue and the whole thing kinda gets out of control because everyone apparently wants to have his share of Johnny's tight little ass.
Add to this the fact that cops like to use their night sticks for all kinds of purposes (often unrelated to its main use) and you get the idea where I am going with this. Johnny got pounded hard by all three prison guards and his ass was shared among all the three men. Just take a look at how the nasty prison guards managed to stretch that ass with their big fat dicks. Towards the end it looks like a gaping hole!
Preview video:


Click here to check out the complete movies of these hot inmates and the nasty, manly and hung prison guards at Jizz Orgy!
Jizz Orgy is a brand new site from the Men.com family of sites. It features hunky, manly studs engaging in big nasty orgies where cum flies in all directions! This is a perfect site for lovers of huge orgies with lots of muscles, big hard cocks and sperm all at one place.

Leave a Comment
:aggressive tops, blowjobs, Charlie Harding, Colby Jansen, jail sex, Jimmy Johnson, Johnny Rapid, muscles, nightstick, police uniform, prison guard, tattoos
Click For More...