Tag: clothed female
by Ben Daniels (Admin) on Sep.26, 2015, under CFNM
Darius is a young and handsome sporty lad who comes to the immigration office to ask for a visa. It turns out that the questioner is a hard-headed lady called Lucinda who quickly realizes what a great hunk she has in front of herself. Being the sneaky government employee she knows all the tricks how to take advantage of situations such as this.
The handsome lad is ordered to remove his clothes or else his visa application will amount to nothing. He obeys this order and wonders if that will be everything he'll be required to do. Little does he know that horny Lucinda has just begun. She keeps ordering Darius to take even more clothes and just stand buck naked in her office! Suddenly, Darius' man's pride gets activated and he wants to assert his own will. That would be fine at any other place, but here in the immigration section Lucinda and her colleagues couldn't care less about his macho pride. Lucinda knows she's got him by the balls and intends to squeeze out of the hunky boy everything she can. She is especially attracted to his soft penis which, when touched, quickly starts to grow… and within seconds Darius' cock is fully erect and within Lucinda's reach.
Click here to watch their whole video in HD quality at CFNM (Clothed Female/Nude Male)!
Clothed Female Naked Male (CFNM) is a very hot site for lovers of truly straight guys. It's a little tongue in cheek but the men are fuckingly hot!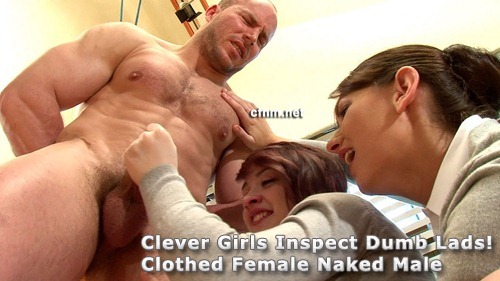 1 Comment
:clothed female, female domination, handsome, immigration office, jock, Lucinda, naked men, showing ass, spontaneous erection, straight men
Click For More...
by Ben Daniels (Admin) on Jun.27, 2015, under CFNM TV
Kristy has worked hard to become a sports reporter, and she's now in her element. She gets to interview the hottest sportsmen that other people usually watch only on TV. She knows full well that she has a definite impact on sportsmen, who never refuse to goof around and accept her pranks in good humor. Some footballers don't quite understand what's happening, but they don't want to appear stupid and will always agree with whatever sexy Kristy comes up with.
This time, for instance, she was really curious to inspect their penises from up close, to check whether some rumors are true that are frequently talked about in tabloids. Well, the footballers are shocked, to say the least, but turned on at the same time. With their jaws dropping, the horny muscular footballers can only giggle and smile. They would never say "no" to famous sports reporter Kristy! Of course, Kristy has a lot of other plans with these three hot sportsmen…
Click here to watch their entire adventure in HD quality at CFNM TV!
CFNM TV is a brand new site from the creators of sites such as CFNM, Brutal Tops, Breeder Fuckers, The Casting Room and CMNM. If full-length videos of hung masculine men being dominated by beautiful horny women turns you on, you're certainly going to enjoy this site. It is actually the video site specific CFNM site that's made especially for those who prefer videos to photo stories.
1 Comment
:clothed female, female domination, footballer, inspecting penis, naked sportsmen, shower scene, straight men
Click For More...