Tag: curly hair
by Ben Daniels (Admin) on Aug.23, 2015, under English Lads
Meet Tom! He's quite a big young straight man, standing at 6'4" (193 cm). His body is gorgeous, with plenty of hard muscles. Every muscle lover can virtually lose himself while worshipping this young ripped hunk. Luckily, Tom's most important muscle is also pretty big, and I think we don't have to emphasize just how much our Jack was happy to discover this fact!
Jack's hands quickly find their way to Tom's underwear, and as soon as he sees the goodies therein, Tom starts smiling from ear to ear! No wonder, because Tom's packing no less than 9 inches of hard meat in those boxers! Damn! I am truly sorry I can't show you Tom's huge cock, but that's the policy of the studio (Englishlads) – we can show only the approved pics that they give us.
Anyways, Jack quickly takes off Tom's remaining clothes and I think you'll agree their interaction was pretty amusing to watch. Tom is taking all this pretty well, for a straight guy and considering it's his first time to be on a porn shoot. And although Tom was a bit nervous, his cock definitely wasn't! Within a few seconds it starts throbbing like mad. Tom had never experienced being touched down there by another guy, but I think he was pretty cool about it.
Soon enough, we see Jack on his knees, trying to swallow Tom's entire monster. It's not easy, but he's certainly doing his best! It seems that Tom really liked the attention he got, that must have pumped up his ego at least a little bit.
Finally, Tom lies on his back and lets Jack take care of his cock with his mouth… after some time Tom shot quite a big load that splattered all over the place making a huge mess. Great show guys, and Tom – we hope to see you soon again, buddy!
Click here to download his entire video in HD quality at EnglishLads!

English Lads is a fantastic site with loads of very manly, straight lads from England who love to show off and jerk off for the camera.  The guys that appear here are usually not found on any other site, so the content is quite exclusive. All movies are in HD quality.
1 Comment
:blowjob, curly hair, English men, gay for pay, handjob, handsome, Jack Windsor, Muscle Worship, muscled, ripped, straight men, Tom Sutcliffe
Click For More...
by Ben Daniels (Admin) on Aug.06, 2015, under Bentley Race
In recent times straight guys have realized that getting naked and jerking off for some porn site can be a really nice addition to their income. More and more straight guys are appearing in gay porn today and the trend is on the rise. And for many of them it's not only about the money but they genuinely enjoy the attention and they have fun along the way.
Brock Wyman is Bentley's latest find – this hot, 22-year old German stud contacted Bentley Race and told him he'd like to do a photoshoot for his site. Brock was visibly nervous in the beginning. Brock is very tall and when he stands in front of the camera he looks positively impressive and imposingly large. Bentley and Brock went to a rented hotel room and had some chit-chat to break the ice. Well, it turns out Brock is a very genial and nice dude, not at all intimidating as Bentley thought in the beginning. The two guys thought that Bentley's ideas regarding the poses during the photoshoot were pretty hilarious. This was Brock's very first foray into porn, but his cock didn't mind that at all and stood upright and proud throughout the entire shoot!
Brock's muscles are really gorgeous, and we all had lots of fun while he was flexing them for the camera. Unsurprisingly, Brock's cock remained stiff hard even while he was busy flexing his muscles. Brock then found some straight porn on his PC and put on a great show. There's a big surprise towards the end of the movie. I won't tell you the details, but let's just say it involves a truly massive jizz explosion! Well, I doubt that anybody had ever cummed so big in that hotel room, nor is it likely that anyone ever will!
Things certainly look very promising for this hot beefy German dude.
Click here to watch his entire video in HD quality at BentleyRace!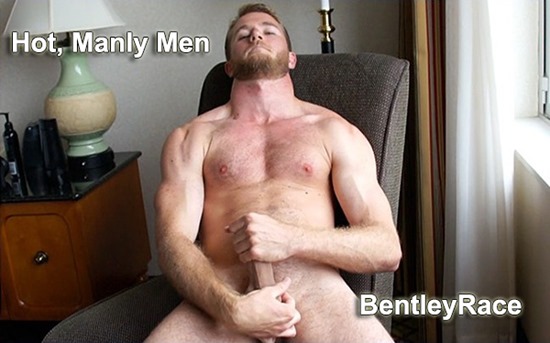 2 Comments
:beefy, big dick, Brock Wyman, curly hair, flexing muscles, German stud, handsome, huge cumshot, jerking off, muscled, Posing Nude, straight men, young stud
Click For More...