Tag: Elder Ricci
by Ben Daniels (Admin) on Sep.08, 2016, under MormonBoyz
Elder Ricci has had a very adventurous and exciting life in the past several months. Bishop Angus ordained him and his journey toward the inner sanctum of "The Order" is almost complete. Elder Ricci is a very hung boy indeed, and it's no wonder that Bishop Angus loves to use his big fat cock on this initiate so much. Last time Bishop Angus wiped the cum across Elder Ricci's face with his huge cock several times and this made Ricci quite aware of his new persona and responsibilities.
This time round, however, Brother Johnson decided that Elder Ricci really needed his help on the path. These two are not strangers by any means. Brother Johnson already attended several of Elder Ricci's initiation rites, and participated in almost all of them. Brother Johnson smiles warmly at Elder Ricci and asks him to decide for his new name. Ricci gives it to him, in the same manner as he'd been practicing that in front of the mirror several nights before. Brother Johnson starts from Ricci's feet and begins to anoint them. Ricci is a little confused as he didn't expect this, but also feels deeply honored. Ricci now only wants to return his gratitude to this man. Little by little, Johnson grabs Ricci's big cock and starts stroking it. Johnson slowly loses his clothes, too, and now Ricci realizes he is standing in front of a real man, very muscular and strong. Ricci can feel this man's pulsating hard cock between his ass cheeks. Johnson keeps examining Ricci's body with his hands, while Ricci is moaning softly…
Soon enough, Johnson orders Ricci to get on all fours and he shoves his cock into Ricci's asshole. Ricci can feel the man's hard weapon spreading his hole far and wide…
Preview video:
Click here to watch their entire video at Mormonboyz in full HD quality.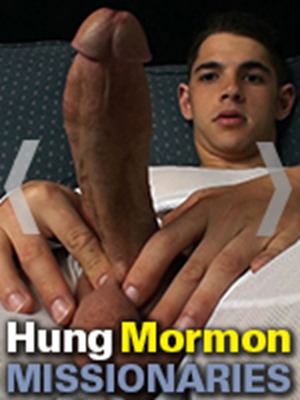 1 Comment
:bareback fucking, blowjob, Breeding, Brother Johnson, Elder Ricci, handsome, huge cock, mormon boys, muscled, ritual insemination, thick cock
Click For More...
by Ben Daniels (Admin) on Oct.19, 2015, under MormonBoyz
Elder Lindsay is about to be transferred to a new area and Bishop Angus (president of The Order's presiding bishopric) wants to check him out in order to get to him know a little better.
The Order, which is a group of Mormon high priests who initiate new members into their ranks, got interested in Elder Lindsay. In order to initiate a new member, certain sexual rituals are employed, some of which are quite ancient and date back to the restoration of the "true church".
Among the priests these erotic rituals are called "signs and tokens of the priesthood", and they have guarded them as a secret for many years. Bishop Angus is pretty much certain that Elder Lindsay is going to make to the club, but rules are rules… and thus the examination begins…
The ritual begins with these words solemnly spoken: "You have been an excellent servant. Because of your fearless service, I have been asked to extend a new calling to you." Bishop Angus makes it clear to Elder Lindsay and his friend Elder Ricci that they did not do anything wrong, but that the ritual can be a little painful, but also quite pleasant, in a very specific way! However, the boys have no choice and can't opt out of the ritual. Instead, a complete submission to the authority of the priest is called for.
Elder Lindsay didn't find anything wrong with this sexually characterized ritual, but Elder Ricci had his doubts. The President sensed that Elder Ricci wasn't quite certain about this and told him frankly, "We'll begin the process with Elder Lindsay, while you consider what to do," and then added that whatever happens behind these closed doors must never be told to anyone, as this has always been the rule.
Preview video:
Click here to watch their entire video in full HD quality at MormonBoyz!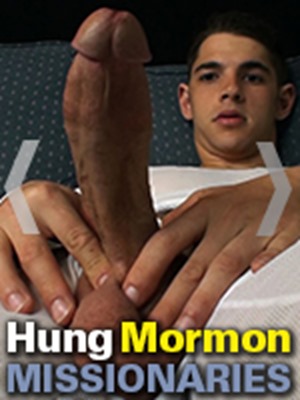 5 Comments
:bareback fucking, beard, beefy, big dick, Bishop Angus, blowjob, domination, Elder Lindsay, Elder Ricci, hairy chest, mormon boys, muscled, pervy men, sexual rituals
Click For More...