Tag: Fabian
by Ben Daniels (Admin) on Sep.12, 2012, under Chaosmen
Fabian is a masculine Italian straight dude with a well-built body and one of the most beautiful big cocks I've seen lately. He called me the other day and asked if he could do a video about Edging (I had mentioned him edging before but didn't explain exactly what it is). So I wend over everything that a typical edging video contains.
Fabian is truly a straight dude and, although open-minded, he has his limits as to what is acceptable and what is not. But I explained that the edging video is something like an oral video with a bit of bondage and he agreed.
Fabian is always extremely horny and it doesn't take him long to shoot his jizz. I mean, many with guys it can take quite some time to nut, especially if they're in front of the camera, but Fabian is like a relentless sex machine and will always nut relatively quickly.
My mouth and throat were more than enough to bring him over the edge and he shot his hot white load as soon as he was ready.
So this is truly a video about edging, because Fabian was on the edge throughout the entire blowjob scene!
[jwplayer config="firstplayer" file="http://www.roughstraightmen.com/wp-content/videos/fabian_edge.mp4″ image="http://www.roughstraightmen.com/wp-content/videos/fabian_edge.jpg" html5_file="http://www.roughstraightmen.com/wp-content/videos/fabian_edge.mp4″]
Click here to watch their entire video in perfect HD quality at Chaosmen!
Chaosmen is a great porn site that features hot straight and bi men getting serviced or fucking their mates bareback for some cash. This site is exceptional and very unique because almost every single fucking is bareback and ends with gorgeous internal cumshot or creampie.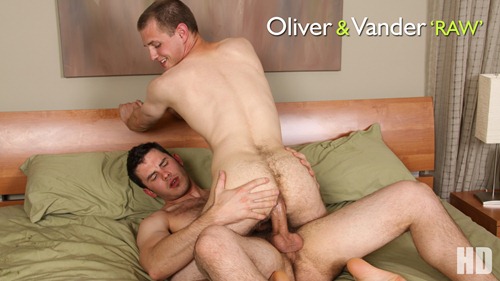 Leave a Comment
:beautiful hard dick, Blindfolded, blowjob, cumshot, edging, Fabian, facial hair, fit body, hairy chest, handsome, italian, masculine, sperm
Click For More...
by Ben Daniels (Admin) on Feb.03, 2011, under Dirty Tony
Well, this is something special. Four straight guys with heavenly bodies and hard cocks are brought together for a group jerk off session!
They enter the room one by one: Aces, Fabian, Chase and Mark Hammer and sit on the sofa. Without wasting any time they whip out their already hard tools and start jerking off. We put some straight porn for them to have some girl ass and boobs to beat their meat to.
They first massage their thickening cocks through their jeans. Fabian is the first to whip it out. His dick is pulsating and throbbing with desire to be stuck into a tight hole. Next to take out his mighty sword is Aces – the guy with awesome tattoos and gorgeous body. His cock is uncut and beautiful. Mark Hammer follows the suit and whips out his already prepared, rock-hard tool that he had been stroking thru the boxers. His dick is big and fat, spewing lots of precum down the shaft. And finally Chase unleashes his fantastic hard cock, squeezing it from the thick base towards the tip of the cockhead.
They look at each other's dick from time to time (allegedly uninterested). Mark suddenly cums and shoots a spurt of his white cum. The three other guys follow his example and edge themselves slowly to the climax. However, this was not to be the end of the fun!
I brought them several toys for them to play with. Each represents some of their biggest desires: lips, ass or an eager, wet pussy.
They fuck the toys, forcing the plastic to spread around their thick shafts and swollen cockheads. This is fantastic stuff, guys. There are few sights that are hotter than watching four hung, beautiful studs beating their meat together.
Now in the second round, Chase is the first to cum, ejecting his white thick fluid all over the painting. A few moments later Mark sprays the table with his own cum. Aces and Fabian took their time, working up savory loads of their own, and in the meantime Chase and Mark simply had to unleash another load (2 loads each). Aces directs his cock straight at the painting and shoots stream after stream of his perfect white jizz. Having seen this, Fabian ejects his own jizz on top of the painting, adding some more sperm to the mixture. Additionally turned on by this cum fiesta, Chase cums again and gives us the conclusion to this cum marathon.
These four men really ejaculated a lot of cum. If you watch the video in its entirety you will be amazed at the amount of jizz that ended up on that poor picture! I guess even the guys didn't expect so much cum. Be that as it may, the picture will be put on the wall in my office!
Short preview video:
Click here to watch their whole video in perfect HD picture quality at Dirty Tony!
If you are into straight guys and hardcore action, you should certainly check out Dirty Tony because this guy collects some of the manliest specimens and pays them to jerk off or fuck each other. Very hot site with lots of dirty, hardcore action!
Leave a Comment
:Aces, Chase, Cumming together, cumsplatter, Fabian, manly, Mark Hammer, masculine, muscles, Mutual jerkoff, sperm on the floor, tattoos
Click For More...