Tag: fashion model
by Ben Daniels (Admin) on Nov.30, 2017, under CFNM
Matteo's benefactor has made a formal request that Matteo should get naked before all these clothed women who are supposed to make sure that he's got what it takes to become their model. Although he's feigning anger, Matteo's stiff hard cock reveals his true mood – this guy is totally turned on by these inquisitive hot women that are all around him! They want to examine and touch every part of his hot athletic body and their mouths droop when his cock gets fully erect.
But these nasty selfish girls don't care if Matteo finds this examination enjoyable, they only care for their own pleasure, and want to make that clear to him. The only thing that's required of him is that he stand there, play dumb and keep his cock erect so that they can have fun with it. The women find it funny that his cock is so stiff, long and points straight upwards to the ceiling, Matteo's macho pride is, at least temporarily, eclipsed by these women's power.
And then we get to see how Matteo's bearded buddy and colleague from previous job suffers the same fate in the hands of these horny and inquisitive women who want to intimately examine all the parts of male body.
Click here to watch their whole video in HD quality at CFNM (Clothed Female/Nude Male)!
Clothed Female Naked Male (CFNM) is a very hot site for lovers of truly straight guys. It definitely has "a tongue in cheek" quality to itself, and both the men and women are really hot!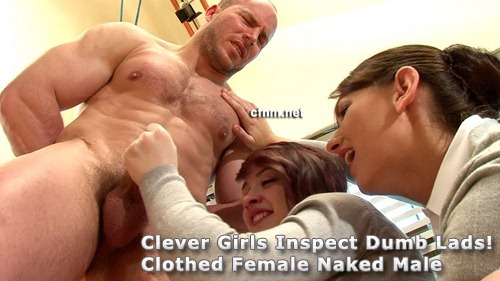 1 Comment
:beard, big dick, clothed women, cumshot, examined, fashion model, Matteo, muscled, naked men, ripped, spontaneous erection, women inspecting men
Click For More...
by Ben Daniels (Admin) on Jul.09, 2012, under TheCastingRoom
Edward is a straight dude with handsome face and very nicely built body. He might look innocent at the first sight, but deep down he has a kinky side. Edward has been working as a fashion model for some time now, but he has never tried his luck as a porn actor.
Edward says that the money from fashion modeling isn't so huge and that he has to work as a professional fighter to earn enough money. Unfortunately, he was injured recently in one of his fights and won't be able to fight for several months.
Someone told Edward that porn will probably be a good substitute for professional fighting and here he is now, ready to give it a try.
Most of the guys who used to work as fashion models have a somewhat conceited attitude when they switch to porn business, but not Edward. He is truly a down to earth lad, always professional and was cooperative with the casting director. Whatever the casting director asked him to do he did.
Edward's dick is beautiful and pretty big and hard, just the type of cock I love. He delivered an amazing cumshot and squirted his sperm very far. Very impressive indeed!
Short preview video:


Click here to watch his entire video in HD quality at The Casting Room!

The Casting Room (formerly known as First Auditions) is a great, original porn site that showcases young, cocky straight men who would like to become porn stars and make loads of cash. They think that they'll be accepted right away and be able to fuck lots of girls, but they don't know that our casting director is very strict and wants to fully inspect them during the audition. He orders them to get fully naked, show their ass, and jerk off so that we can clearly see the cumshot. Plus, we get to hear all their fetishes and what turns them on.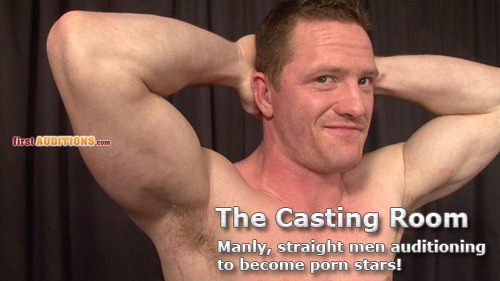 Leave a Comment
:big cock, big cumshot, Edward, fashion model, hairy legs, handsome, jerking off, muscled, professional fighter, showing asshole, tattoos, uncut cock, well-built
Click For More...