Tag: First Time Naked
by Ben Daniels (Admin) on Oct.07, 2013, under TheCastingRoom
Robby is a sexy, rough and very muscled bodybuilder and powerlifter. He has been working out literally for years trying to achieve the perfection. And, owing to his hard work he has reached his goal.
I was flabbergasted when he said he hadn't done any porn, not even amateur, prior to coming to this audition. So, this is officially Robby's first appearance on the camera where he shows off his fantastic muscles and HUGE cock.
Robby is totally straight and the thought of doing anything sexual with another guy is completely unimaginable to him at the moment, but we can certainly enjoy in his solo scene for the time being.
Robby whips out his massive tools and begins to stroke it. It swings and slaps all around his thighs and six pack since it's so big. Robby shot a pretty big load which landed on the floor, while one part of the squirting cum hit his massive thigh.
Preview video:
Click here to watch his entire casting video in HD quality at The Casting Room!
The Casting Room (formerly known as First Auditions) is a great, original porn site that showcases young, cocky straight men who would like to become porn stars and make loads of cash. They think that they'll be accepted right away and be able to fuck lots of girls, but they don't know that our casting director is very strict and wants to fully inspect them during the audition. He orders them to get fully naked, show their ass, and jerk off so that we can clearly see the cumshot. Plus, we get to hear all their fetishes and what turns them on.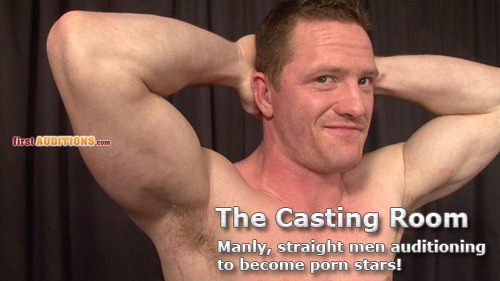 Leave a Comment
:Audition, Bodybuilder, First Time Naked, handsome, huge cock, muscled, powerlifter, ripped, Robby
Click For More...
by Ben Daniels (Admin) on Dec.14, 2010, under TheCastingRoom
Alban is a 19 year-old candidate who applied for our new male porn stars audition. He's never been naked in front of camera. He is a completely straight man and has an innately aggressive behaviour and very high sex drive.
So, as you may imagine, the casting director had quite an interesting challenge of asking him sometimes uncomfortable or unpleasant questions regarding his sexual practices and inspecting his perfectly built, young, masculine body.
I have a strong feeling that if we ogled at Alban in the gym's changing rooms, he'd probably punch our lights out. However, the director is up to the task and manages Alban's nervousness about showing his naked body pretty well.
Despite this nervousness, he brought himself quite easily to the orgasm and shot an impressively big load of cum!
Alban is your quintessential straight guy. When he thinks of sex, he thinks of hot chicks. And he's mostly unaware of how hot, masculine and sexy he is.
Short preview video:
Click here to watch his entire video at First Auditions!

Leave a Comment
:Alban, big cumshot, bushy, buzz cut, First Time Naked, jerking off, manly, nice big cock, straight
Click For More...