Tag: hands-free cumshot
by Ben Daniels (Admin) on Jan.14, 2015, under Manavenue
Is there a better way to start a new day but to wake up watching a new muscular stud from Manavenue? I doubt it. So let's dive right into his video. Ray Cutler is a very handsome, muscled and horny straight dude. He has a definite "bad boy" attitude and loves to show off his hard muscles. He's especially proud of his big, thick stiff uncut cock.
We find Ray on the terrace while he's slowly flexing his hard biceps. He's still clothed in a blue t-shirt and sports shorts but you can clearly see his strong physique nevertheless. He shows off his big muscular thighs, as well as calves and nice big feet. He stands up and takes off his t-shirt. We can see his perfect chiseled chest and six pack now in their full glory. He goes inside and flexes some more, obviously admiring his hard muscled body and getting hornier and hornier every minute. He strips slowly, knowing that people love long, protracted stripping sessions.
Soon enough his sports shorts is gone and he lies on the bed massaging his cock and balls through the underwear. He even plays with his asshole a little. The underwear is gone now too, and finally we can focus on his beautiful hard uncut cock. It's thick and stiff and points straight to the ceiling when he stands up.
Ray walks around the room like a cocky peacock, and even does several push-ups while his cock is still fully erect. He then leans onto the furniture and starts stroking his cock slowly. He keeps flexing his muscles, as if he's getting the kicks off of them as well. At one point he shows us how he can wield his cock without the help of hands. He swings it back and forth so that it slaps forcefully onto his stomach and makes an audible thump. Then he lies down again and starts jerking off faster. His body tenses and soon enough you know that he's gone past the point of no return. When he reaches it, he stops touching his cock with his hands and starts shooting his warm jizz. So in effect this was a kind of hands-free cumshot (partially).
He then stands up while the jizz is slowly dripping from his stomach and cock. Hot damn!
Preview video:


Click here to watch or download his entire video in HD quality at Manavenue!
Manavenue is an exceptionally good porn website that features masculine, cocky, muscled, powerful straight men, the type of guys that grab your attention while you're secretly ogling them in the street or in a supermarket. These tough motherfuckers are aware of their sexual appeal and want to show you everything they've got.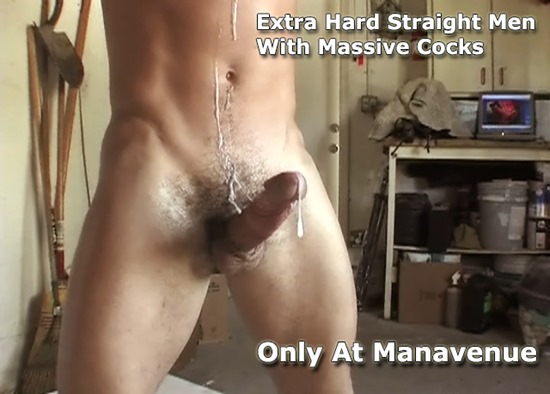 3 Comments
:big dick, big thighs, flexing muscles, hands-free cumshot, handsome, muscles, posing, Ray Cutler, showing off, stiff cock, straight men, tattoos, thick cock, uncut cock
Click For More...
by Ben Daniels (Admin) on Jul.24, 2013, under TheGuySite
I'm not particularly fond of really heavy muscles, but Xavier is one of my favorites. His huge, mountain-like muscles look great on him and he certainly looks like a huge stud.
This is his solo movie in which he exposes his naked muscled body for all of us to see. He speaks honestly about his tattoos and the circumstances that led to their creation.
The shower scene was particularly hot and I liked the hands-free cumshot!
At the moment Xavier doesn't want to do any scenes with other men, but I remain hopeful. However, I managed to talk him into jerking off with another guy (standing next to each other). He admits that that is the very first time for him to be in the presence of another guy during masturbation, so it should be interesting.
Click here to watch his entire video in HD quality at The Guy Site!
The Guy Site is a great destination for all lovers of amateur, "next-door" type of guys. These guys are not always ripped and perfect, they look more average, but just because of that they are more authentic and hence more realistic!
When you go and walk around your neighborhood you're more likely to  meet one of these hot "next-door" dudes than some perfect bodybuilder. That's not to say that there are no bodybuilders on The Guy Site, but even they are amateur types. That's why I really like The Guy Site. Certainly worth checking out.
1 Comment
:beard, big cumshot, Bodybuilder, hairy chest, hands-free cumshot, interview, jerking off, muscle god, tattoos, Xavier
Click For More...