Tag: John Naylor
by Ben Daniels (Admin) on Jan.18, 2015, under CFNM TV
John Naylor is a young hot swimmer and he's just returned from a swimming competition. He performed very well and he feels like he's on the top of a mountain. John is already used to the fact that he's become a media darling and every now and then people approach him in order to negotiate very lucrative sponsorship deals that already made him a very rich man.
Today, however, he suddenly got into a bunch of hot girls who demand that he explain some points from the contract. The girls are adamant about checking out his naked body so they can be assured that they're sponsoring the right person. After only a few minutes the girls have stripped John to his swimming trunks and insist that he takes them off as well. Alas, John quickly grows a spontaneous erection while the girls' hands are all over his body. I am pretty sure that yet another milking session is in order…
Click here to watch their entire video in HD quality at CFNM TV!
CFNM TV is a brand new site from the creators of sites such as CFNM, Brutal Tops, Breeder Fuckers, The Casting Room and CMNM. If full-length videos of hung masculine men being dominated by beautiful horny women turns you on, you're certainly going to enjoy this site. It is actually the video site specific CFNM site that's made especially for those who prefer videos to photo stories.
1 Comment
:female domination, Fingering Ass, inspected, John Naylor, spontaneous erection, sweatpants, swimmer, Swimmers Body
Click For More...
by Ben Daniels (Admin) on Dec.05, 2012, under CFNM
John Naylor is a swimming athlete and has been competing for years. He's now among the most successful swimmers and one of the top sportswear brands hired him to promote their stuff.
The women from the sportswear brand and athlete official Gaby caught John while he was wearing clothing from another big brand. Clearly this is unacceptable and won't be tolerated. The clever girls strip him down and soon enough John is left only with his swimming trunks.
The girls are intrigued by Paul's hot swimmer's body and want to inspect him more. They peek into his trunks and this causes his cock to grow hard in no time.
The girls want to know more about the male body, his lean swimmer's body turns them on a lot. So they continue to inspect and touch him, all under the pretense that they have to make sure he would meet their requirements as far as clothing advertising is concerned.
Click here to watch their whole video at CFNM (Clothed Female/Nude Male)!
Clothed Female Naked Male (CFNM) is a very hot site for lovers of truly straight guys. It's a little tongue in cheek but the men are fuckingly hot!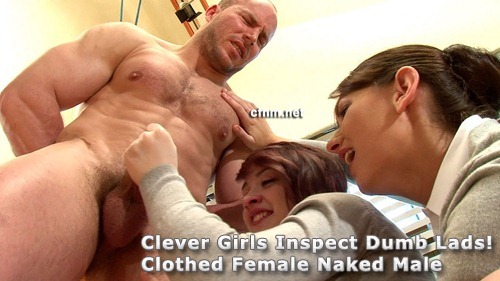 Leave a Comment
:ass play, forced handjob, Girls Inspecting Boys, inspected, John Naylor, lean body, sporstman, sports outfit
Click For More...