Tag: joking
by Ben Daniels (Admin) on Aug.03, 2015, under GayHoopla
Andre was pretty nervous when we went to pick him up from the airport. It was to be his first time to fuck another guy and naturally his nerves got the better of him. At the same time he was eager to do it and bragged about telling us how he'd make the guy choke on his big dick and how he'd demolish his ass!
So we picked up Max along the way and went to have a breakfast before the shoot. Andre was surprised when he saw Max for the first time. Max is of course a big dude! Andre was living in the illusion that his partner would be some little guy – how wrong was he!
Max greeted Andre and wished him lots of luck in his fledging porn career at Gayhoopla. The guys realized they were at the same wavelength pretty soon and started talking as if they had known each other for ages. Lots of fooling around, joking and laughing – who would have thought they just met each other today?
Anyway, the fuck scene was scorching hot, and Andre did in fact fulfill his promise that he would demolish his partner's ass – Max's ass got a complete overhaul and this made Max shoot such a big load that it splattered all over his face and even went past his face!
Preview video:
Click here to watch or download their entire video in HD quality at Gayhoopla.
Gayhoopla is a relatively new site and it has an interesting history. Several of the guys from well-known site Fratpad decided to establish their own amateur site, and so USA Cam Guys was born. But the members of this site complained that there was very little concrete action going on. So, the "naughty" and more hardcore sister site was created – Gayhoopla – which contains much more hardcore action among the participants. Despite its name (Gayhoopla) this site actually has more straight guys than some other allegedly straight boy sites out there. It is really reminiscent of Fratmen and Fratpad, so if you're into hot American straight jocks and amateur guys this website is a must and you should check it out. The site contains over 200 streaming videos, daily scheduled live shows etc, so it definitely stands out when compared to other porn sites.
1 Comment
:Andre Temple, big dick, Big feet, blowjob, bubble butt, buddies, fooling around, gay for pay, hairy legs, interracial, joking, Max Summerfield, muscles, ripped, smile, straight men
Click For More...
by Ben Daniels (Admin) on Jun.08, 2013, under My Straight Buddy
This was a rather long video, it lasted for several hours and I loved every minute of it. It took me back to my high school days when I used to get together with my buddies and we'd just have some good time together, just like all young straight men do. Or, I'd often watch guys playing basketball in my neighborhood and, believe it or not, the content of their conversations and vocabulary is just the same as with these guys. Just gotta love that cocky masculine energy that flows when you're among several guys.
The guys were in a very good mood and laughed so much that it was contagious. They had some kind of bet and eventually got naked and walked around the house like that.
In the next part we're going to see these four guys having a jerkoff contest!
Preview video:
Click here to watch their entire video in perfect HD quality at My Straight Buddy!
My Straight Buddy is a brand new site that features genuine straight men fooling around among themselves. There are many porn sites out there with bisexual or gay men posing as "straight", but this site is different – the guys herein are truly straight and they don't fuck each other. We get to see how they spend time together and how they fool around. There are occasional blowjobs but not much more than that. There are many antics and the guys are usually pretty funny, hot and masculine.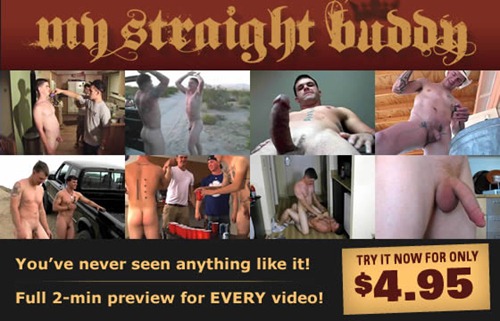 Leave a Comment
:fooling around, four guys, joking, masculine, naked straight men, stag party, straight men talk, tattoos
Click For More...