Tag: Logan McCree
by Ben Daniels (Admin) on Dec.18, 2010, under StagHomme
"The Good Husband" opens with fully-tatted Logan McCree in bed with his wife (Barbie Star). As the lovers wake Barbie starts caressing her husband's legs and begins to stroke his cock. But Logan pulls her hand away like he always does and tells her that she'll be late for work. The unsatisfied wife goes to work, knowing there are problems in their marriage, but never suspecting that there's a male trick on his way.
As soon as Damien Crosse steps inside Logan and him start to violently kiss each other while stripping their clothes. You rarely see such unbridled passion on film like you see in "The Good Husband" when the boys start going down on each other, ravenously sucking and suffocating each other with their meaty cocks.
What follows is Logan McCree at his best as he tears up Damien's ass in a sweltering two-position fuck sequence which will doubtlessly make you shoot your load before McCree shoots his all over Crosse's face!
Short preview video:
Leave a Comment
:big dick, cumshots, Damien Crosse, fucking, Full Body Tattooes, Good Husband, hardcore, Logan McCree, sperm
Click For More...
by Ben Daniels (Admin) on Dec.10, 2010, under StagHomme
Incredibly sexy and fully-tatted Logan McCree goes to his local barber shop to trim his beard. But as the barber is giving Logan a close shave with one hand and holding Logan's chin with the other, Logan takes control of the sexual tension as his mouth gets a taste of those fingers resting on his face. The barber, Bulgarian muscle-god and Stag Homme Exclusive Goran, responds with a kiss.
Goran then feeds Logan his fat uncut cock before returning the favor and putting that heavy slab of tatted meat in his own mouth. The barber then bends Logan over in his chair, spreads open his cheeks, and eats that beautiful pink hole before he starts plowing him in two positions and fucking the cum right out of Logan.
But Goran isn't done…he puts Logan back on all fours and fucks him a bit more until he's ready to blow. Only thing is that the camera man's ready to blow too, making it two fat loads on Logan's beautiful tatted cheeks.
Short preview video:
Click here to watch this outstanding movie in its entirety!
Consider joining Staghomme, it's a beautiful gay porn site with fresh and imaginative hardcore porn and hot euro men you won't find anywhere else.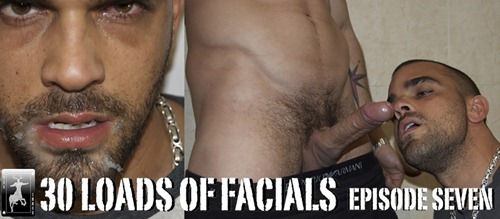 Leave a Comment
:big dick, cumshot, fucking, Goran, hardcore, Logan McCree, masculine, shaved head, studs, tattoos, The Barber's Blade
Click For More...