Tag: Luke Milan
by Ben Daniels (Admin) on Dec.10, 2015, under NextDoorBuddies
Quentin Gainz plays a handsome husband whose wife hired strikingly hot housekeeper Luke Milan. Luke works for a company that specializes in some special services such as doing house chores totally naked, for selected customers.
Now, you can imagine how shocked Quentin was when he found out that his wife hired someone from this company! Luke enters Quentin's living room with his cock fully erect and Quentin was absolutely taken aback at the sight of Luke's massive hard cock. Luke slowly describes his job position and everything it entails, but Quentin replies that if his wife really hired him she probably didn't read all the small print and was unaware of the "special and bonus services".
Luke manages to find out that Quentin and his wife are going through a bit of a dull, uneventful period in their marriage, when nothing exciting is happening, especially in their bed. Quentin seems perplexed by all this, but Luke is quick to put his hand on Quentin's thigh and reassure him of his good intentions. Quentin knows where all this leads to, but since he's straight and married, he's not sure he should take up the challenge.
Luke knows just what is needed at this point and tells Quentin to just close his eyes and enjoy the ride. He opens Quention's jeans and starts to feast on his growing cock. Quentin kicks back and lets Luke do his magic with his mouth. Luke takes good care of Quentin's cock, as well as his balls.  Luke then pushes Quentin's legs up in the air and penetrates his ass in that position. Quentin groans and moans as Luke plows his ass, feeling a strange mixture of pain and pleasure. Little by little, Quentin's ass is broken in and Luke continues to stretch it from behind. Quentin can only grab and clutch the sofa pillows as his housekeeper fucks him hard.
Quentin's cock remains fully erect as he's being plowed by Luke.  Luke pulls out just a second before Quentin is about to shoot his load. Luke is also on the verge of cumming and he pulls out, shooting a big load that reaches all the way up to Quentin's head and makes a complete mess all over his ripped body.
One thing is for sure – this company takes their choosy customers' demands quite seriously!
Preview video:
Click here to download their entire video in perfect HD quality from Next Door Buddies.
Next Door Buddies is a porn site that features the typical "guy next door" types of men having some hot man on man sex with each other. These guys are usually either really straight or straight looking, although there are of course hot gay guys as well. The stories are a bit cliché but the production quality is pretty high and the men are usually really goodlooking.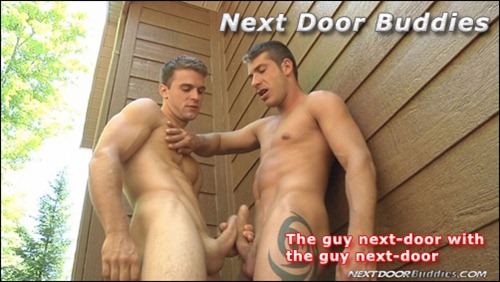 1 Comment
:anal sex, big dick, blowjob, fucking, gay for pay, handsome, housekeeper, Luke Milan, Quentin Gainz, tattoos
Click For More...
by Ben Daniels (Admin) on May.29, 2013, under NextDoorBuddies
James Huntsman really likes to dress up. He likes sporty clothes but for special occasions nothing beats the formal suit. James has a very professional tailor who is well-known around the world. Luke Milan takes pride in the fact that he has uncanny talent for the masculine body and always selects the perfect clothes for every one of his clients.
When James arrived at Luke's shop, Luke suggested that James took off his present clothes and remain only in the underwear. Luke has been lusting after James Huntsman's hot body for years, but never knew how to approach him. This time, however, he thinks he knows the way.
Luke makes up a story about a pair of underwear that James really needs to try, that allegedly matches the suit he has chosen. Soon enough James concedes and he's already in his birthday suit.
Luke finds another excuse and takes James' huge dick into his mouth. Just as a token of good-will, you know? James is shocked to see that his tailor is now sucking his cock and doing it with such passion that he didn't have a heart to stop him. For Luke, there is nothing better than a hard man's cock in his mouth and throat, it's his religion if you will. He continues to suck on James' dick like a greedy cocksucker who hasn't seen dick in years. Luke also has a sizeable cock and jerks it simultaneously while servicing James.
James is a merciless and relentless fucker, just as Luke has been suspecting for years. Once James starts to fuck Luke, it's so intense that Luke's faces are just – priceless. Pay attention, Luke is surely enjoying every single thrust and he can feel it up to his throat.
James' powerful body towers high above Luke while he nails that tailor's ass hard. Well, having your tailor can have its perks, especially when he's multitalented like Luke.
Preview video:


Click here to watch James & Luke's entire video in perfect HD quality at Next Door Buddies!
NextDoorBuddies is a very hot and interesting site that features thousands of hot next-door type guys fucking and giving blowjobs!
Leave a Comment
:aggressive fucking, big dick, blowjob, James Huntsman, Luke Milan, muscled, tailor
Click For More...