Tag: Matt Cole
by Ben Daniels (Admin) on Mar.09, 2012, under Big Dicks At School, Men Dot Com
Devin Adams is a quick-tempered sportsman, but he's a damn good player, probably one of the best in his school. His main problem is a lack of discipline and anger issues. In fact last month he was kicked out of a different game and now his coach Matt Cole is furious because he can't allow to lose his best player once more.
Matt starts to shout at Devin and threatens him that he'd bench him for the entire season if he doesn't put his anger in check. But Devin is also furious and he's not listening to his coach. He usually gets spontaneous erections when he's angry or excited, even just from playing game.
Eventually Matt doesn't want to put up with Devin's arrogance and pushes Devin into the lockers. Matt is now yelling at Devin and blackmails him that if he wants to be on this team he's gonna have to prove he is good enough.
Devin has a little secret though. He has been attracted to his coach for quite some time. He likes girls but there is something about this coach and his conspicuously masculine energy that just drives him crazy whenever they are in the same room. Devin is convinced that if he offers his ass to his coach it would solve all their problems and the two men will have to sign the truce.
Short preview video:


Click here to watch their entire video in perfect HD quality at Big Dicks At School!
What happens when a hot teacher meets a hot student who is misbehaved? Or when the student can't control his urges towards that super hot teacher? Find out at Big Dicks At School!
Big Dicks At School is a new site from the Men.Com network of sites. If you join any of the 4 sites in the Men.Com network you automatically get access to all 4 sites!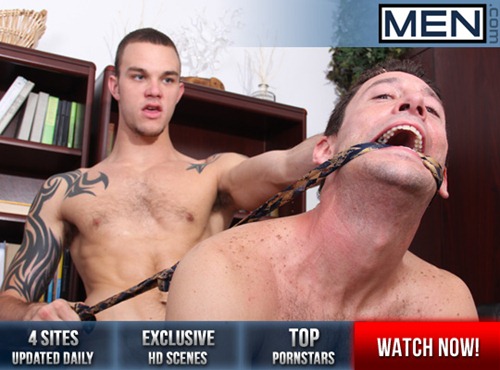 Leave a Comment
:aggressive fucking, big dick, blowjob, Coach, Devin Adams, locker room, masculine, Matt Cole, muscled, rough look, sweat suit, trackies
Click For More...
by Ben Daniels (Admin) on Nov.13, 2011, under Men Dot Com, Str8 to Gay
Tyler Sweet is a supercute young boy who loves his college life, the people he meets there and of course he likes fucking. Unfortunately Tyler has not been doing that well as far as his student grades are concerned. In fact, professor Cole had to give him a "D" on the previous test which is a sure sign he would fail that class and maybe even get kicked out of the school.
So you can imagine that Tyler is by now desperate to do anything and everything to please professor Cole and get the passing grade. He thinks flirting might help, When professor Cole finally figures out what this naughty boy is up to, he says to himself that Tyler isn't going to get out of this easily and there's gonna be a rough ride on his cock for the lazy boy.
Professor Cole is a bit of a sucker for young boys' asses. They are so smooth and baby-like, just perfect for his huge, erect cock.
Short preview video:
Click here to watch their entire video in perfect HD quality at Str8 to Gay!
Str8 to gay is a brand new site – a part of MEN.COM family of sites – that explores situations when a straight guy is dissatisfied with his girl or wife. Would his gay buddy do a better job where his wife has failed? Of course he would!

Leave a Comment
:aggressive fucking, big cock, blowjob, hung, masculine stud, Matt Cole, Older, Seducing the Professor, teacher fetish, teacher fucks student, Tyler Sweet, young dude
Click For More...