Tag: morning fuck
by Ben Daniels (Admin) on Dec.06, 2013, under GayHoopla
Logan Vaughn was at a party last night and came very late. He found his good buddy Cody Wolfe already asleep. And tomorrow they were supposed to make a porno shoot together. Logan reaches for Cody's dick and begins to suck him while Cody slowly wakes up to find an unexpected pleasure.
Cody was completely surprised and still so sleepy he had no clue as to what was happening. When Logan reminded him about their tomorrow's scheduled shoot, Cody figured that the only fair thing is to fuck Logan like there's no tomorrow the next morning. Tomorrow morning Cody asks Logan what was that all about last night. They kiss each other a little bit, then Cody fulfills his promise and ravages Logan's poor tight ass.
Overall, this was an excellent shoot from the guys at Gayhoopla – two really hot manly muscled men fucking hard, what can be hotter than that?
Preview video:


Click here to watch their whole video in HD quality at Gayhoopla.
Gayhoopla is a relatively new site and it has an interesting history. Several of the guys from well-known site Fratpad decided to establish their own amateur site, and so USA Cam Guys was born. But the members of this site complained that there was very little concrete action going on. So, the "naughty" and more hardcore sister site was created – Gayhoopla – which contains much more hardcore action among the participants. Despite its name (Gayhoopla) this site actually has more straight guys than some other allegedly straight boy sites out there. It is really reminiscent of Fratmen and Fratpad, so if you're into hot American straight jocks and amateur guys this website is a must and you should check it out. The site contains over 200 streaming videos, daily scheduled live shows etc, so it definitely stands out when compared to most other porn sites.
Leave a Comment
:blowjob while sleeping, Cody Wolfe, hardcore fucking, Logan Vaughn, morning fuck, muscled, muscles, straight men
Click For More...
by Ben Daniels (Admin) on Dec.05, 2013, under Next Door Hookups
It was sometime during last Summer that I saw Brandon Bronco for the first time. His striking good looks, huge cock and charming personality immediately won me over and I just had to make a blog post about him – you can see it here on one of my other blogs that's devoted to straight men in straight porn.
Naturally, I was pleasantly surprised when I saw today that Brandon made another video. This time round he got to fuck Courtney Shae whom he had met at a party last night. Courtney couldn't resist this hot masculine man and they went to his place to have some wild fun in bed. It turns out they were naughty and fucked like horny rabbits until dawn! One thing, though, that is worth mentioning: A friend of Brandon's told Brandon that if he wants "morning nookie" the best way to get it is to be a gentleman and serve Courtney breakfast in bed. That's the secret recipe for the proverbial morning fuck that men always yearn for.
Unfortunately, Brandon finds out that he has only one tangerine and some orange juice in his fridge. He gets an idea and goes into his backyard to pluck a rose and puts it along with the humble breakfast to tell Courtney that it has been prepared with love and care. Courtney is thrilled with the unexpected present and Brandon is on his way to score again! And that's no wonder because who in his or her right mind would not want to get a hold of that huge thick cock? Brandon's cock gets fully hard in seconds and Courtney is already giving him a great blowjob. Nothing better than an early morning blowjob session!
It is incredibly hot to watch Courtney swallowing Brandon's massive fuck stick while his balls are pumping testosterone in an overdrive mode, as it is usually the case with men early in the morning. Soon enough Courtney is completely enveloped in this man's powerful love grasp and can feel the electricity flowing through their both bodies.
Brandon inserts his rod deep inside her pussy and starts to fuck her passionately. First he fucks her from behind, but that was just the beginning. Obviously, these two love birds love to fuck and they like to push their limits. They change several positions and eventually he shoots his load all over her stomach and tits.
Preview video:


Click here to watch their entire video in HD quality at Next Door Hookups!
Next Door Hookups is a site that features truly straight guys who like to fuck their girlfriends hard and raw. These motherfuckers are really manly and the action is hot!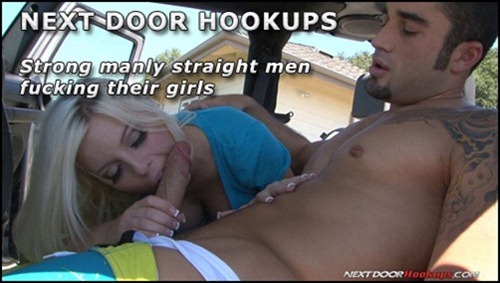 Leave a Comment
:beard, Brandon Bronco, Courtney Shae, huge cock, masculine, morning blowjob, morning fuck, muscled, straight sex, tattoos
Click For More...