Tag: new cocksucker
by Ben Daniels (Admin) on Jan.21, 2013, under New York Straight Men
Paco let his hair grow really big, he looked like he had just come directly from 1975 using a time machine! Although I'm personally not a big fan of long hair on men, I have to admit that his Puerto Rican hair is utterly beautiful (and kinda kinky).
Actually, he first wanted to get a buzz cut, but I had an inkling that a huge hair would suit him really well, so I asked him to put off the buzz cut and record this blowjob with us first.
This was also the blowjob in which JR got completely covered with Paco's copious cumshot, and finally lost his cocksucker's virginity. I mean, let's face it – if there's a corresponding thing to losing anal virginity when it comes to blowjobs, you can't get anything more hardcore than Paco's huge dick stuffing JR's inexperienced mouth and throat, and then spraying JR's face with his thick jizz.
JR's stupid mask also got irreparably ruined during this blowjob, and I'm happy to announce it will be gone next time.
Before he arrived, we told Paco that we had a new cocksucker who hasn't been initiated properly into his new cocksucker's role. Paco just loves to break in new cocksuckers, so he said he'd do whatever it takes to make the new cocksucker realize his place. Paco demanded that the new boy services his hairy ass first, and in the meantime Trey was servicing Paco's big tool because Trey is an accomplished cocksucker and he had the right to do it.
When Paco thought that his ass was sufficiently serviced, he allowed JR to switch to his cock. Paco really raped JR's mouth! You gotta see how his thick and long dick stretches JR's oral cavity.
Eventually, Paco dumped his load all over Paco's face and made quite a mess. JR is now a fully licensed cocksucker in his own right and I'm looking forward to seeing him service many more men in the future.
Click here to watch Paco's entire blowjob video in HD quality at New York Straight Men!
New York Straight Men is the world's biggest collection of straight men getting their blowjobs from gay dudes! These men are usually truly straight but they love getting head from a gay guy because it feels so much better than whatever their girlfriends can do. These men are not the Hollywood type cuties, they are Real Men!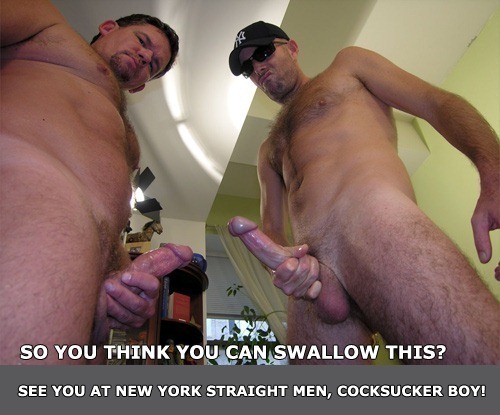 Leave a Comment
:big dick, facial cumshot, hairy chest, hung, JR, long hair, new cocksucker, Paco, straight guys, tattoos, Trey
Click For More...