Tag: party man
by Ben Daniels (Admin) on May.17, 2013, under TheCastingRoom
Meet Barry! Barry is a totally straight dude who likes rock 'n' roll music and everything associated with it. He works as a construction (ground) worker but, when he's not at work he lives the life of a typical rock star and loves the attention he can get with girls owing to such a lifestyle.
Barry loves sex and never misses the opportunity to shove his big stiff dick into some pussy at various parties where he goes regularly. I'd say he's your typical charmer that everyone notices and wants to get into bed with.
Barry can't imagine doing anything sexual with another guy, so his usual response to such requests is, "Nah man, that's not for me." But he's such a cool dude to hang out with that he has many friends and people who simply look up to him as a role model.
Barry heard from a friend of his that porn pays really well so, since he's such a horndog, he figured he might just give it a try. He loves fucking hot girls, and if that can pay his bills, so much the better!
However, he must first pass our casting director, who orders him to remove all his clothes and show us his hot, manly, hairy body and that rather huge fuck stick between his legs. The casting director also wants to see Barry's hairy ass (a sight that nobody has ever seen clearly so far – straight guys are so secretive about their ass). The casting director orders Barry to get on the table and spread his ass cheeks as if he were positioning himself to get fucked, much in the same way he tells his girlfriends to bend over and offer their ass to him.
Barry's got a nice big cock that he wields like a sword as soon as it gets hard. He looked at some girlie porn in our magazines to get hard, then proceeded to jerk off like a madman. His cumshot is pretty epic, I really loved the dull sound of his semen falling on the ground.
I hope we'll be seeing much more of this hot hetero stud.
Preview video:


Click here to watch his entire casting video in HD quality at The Casting Room!
The Casting Room (formerly known as First Auditions) is a great, original porn site that showcases young, cocky straight men who would like to become porn stars and make loads of cash. They think that they'll be accepted right away and be able to fuck lots of girls, but they don't know that our casting director is very strict and wants to fully inspect them during the audition. He orders them to get fully naked, show their ass, and jerk off so that we can clearly see the cumshot. Plus, we get to hear all their fetishes and what turns them on.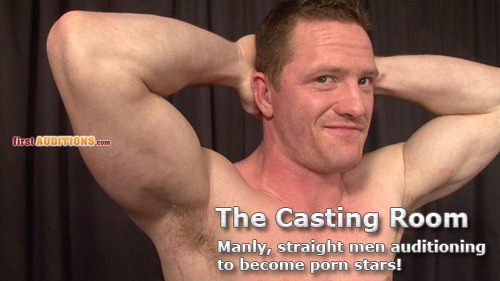 Leave a Comment
:Barry, beard, big dick, Big load, hairy, jerking off, masculine, party man, rock and roll, showing ass, straight guys, toned body
Click For More...