Tag: Penetration
by Ben Daniels (Admin) on May.14, 2013, under BreederFuckers
Young heterosexual lad Vincent is in deep trouble. He found himself in someone else's apartment all naked and tied up. Some weird dude who only introduced himself as "Your Master" treats him like complete shit and beats him all over his muscled body whenever an opportunity presents itself.
Master Dave takes his whip and whips the unfortunate straight lad fiercely, while at the same time Vincent's nipples and foreskin on his dick are squeezed with clamps.
Master Dave immobilizes Vincent and fixes his whole body to the ground. No movement is possible. Shivering from fear, Vincent can feel his ass being penetrated by a big long object, similar to dildo. His up-to-now virgin straight asshole is rapidly being deflowered, and this is just the beginning.
At the end of this training session, Vincent is left on the floor totally tied up, with a vibrator shoved into his straight ass. There is more training that this straight boy needs to go through, and it's going to hurt a lot.
Preview video:


Check out the newest videos with arrogant straight men being turned into obedient cocksuckers at Breeder Fuckers!
If you prefer your porn to be on the kinkier side, you should definitely check out Breeder Fuckers (formerly known as Straight Hell). Breeder Fuckers is a premium fetish site devoted to hot straight guys being tormented, humiliated and treated without mercy by big, mean & aggressive studs!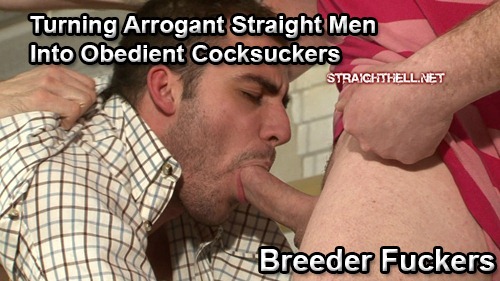 Leave a Comment
:BDSM, Big feet, clamped, corporal punishment, dildos, gagged, hairy, handsome guys, humiliation, masculine, Master Dave, muscled, nipple play, Penetration, ripped, tattoos, tied up, Vibrator, Vincent, Whipping
Click For More...
by Ben Daniels (Admin) on Oct.21, 2010, under ButterLoads
This hot and cute Italian guy decided it was high time to put his horny body into some productive use… and decided to apply for an audition here at Butterloads. It turned out that Rusty Stevens was the director that day and boy, is that guy ever horny.
Rusty interviewed our Italian wannabe porn star and told him some basic things about the business, such as what the term "gay for pay" means. The Italian dude is not thrilled by the "gay" part but is willing to give it a try… and off we go!
First he showed us some of his antics and undressed to show us his very nice muscled body. And then he kinda surprisingly whipped out his HUGE cock. Rusty then comes into picture and offers our Italian flyboy his nice hard cock to suck on. The Italian dude seems to become totally entranced by Rusty's cock in his mouth and throat and he definitely shows great innate skills for cocksucking! If he never sucked cock before, I can only say that the boy has tallent!
Rusty then probes his ass and prepares it for the penetration of his straight hard dick. The Italian dude spreads his butt cheeks and lets Rusty plow his nether regions. The fucking is good, if somewhat painful for the Italian boy, but it all ends up with smiles on both sides and the Italian is covered with two big loads of cum, one from Rusty and from his own load too.
I am sure we will be seeing more of this hot Italian boy!
Click here to watch the whole video of this cute, hot Italian stud getting rammed by sexually insatiable Rusty Stevens at ButterLoads! 
Butterloads is a great new site that features brand new male porn stars (or the currently famous ones before they became famous!) while auditioning for their first shoot. It's great fun and good porn!
Leave a Comment
:Audition, big cock, blowjob, cocksucking, cum, cumshots, cute, gay for pay, hairy, hairy legs, italian, Made In Italy, Penetration, rusty stevens, sperm, straight, strong legs, studs
Click For More...