Tag: Reuben
by Ben Daniels (Admin) on Nov.03, 2015, under MachoFucker
Today I'd like to show you this hot manly stud of Greek and Arabian descent who goes by the name of Cristos. He's a relentless fucker and knows very well how to plow a nice tight hole. Let's see what happened in these two updates which feature Cristos.
Cristos & Hector Take On a Lisbon Bottom Boy

In the first update we can watch both Cristos and horse-hung Hector taking care of a freaky street lad from Lisbon. The video starts with Cristos getting a sloppy handjob from the bottom boy. Then Hector intervenes and is the first to break in the boy's ass – check that out, that Mediterranean boipussy certainly got a thorough stretching thanks to Hector's magnificent huge monster cock!
Hector fucks it hard and eventually deposits his load into the boy's ass… then Cristos comes in and gives his contribution to the hole stretching programme!
*****
Cristos & Reuben
In the second video, Cristos and fitness trainer Reuben had some hot fun together. From the get go Cristos made it clear that he, as a complete top, would treat the black boy as a total sub boy. No pleas no persuasions, nothing of that sort will help assuage this total top's desire to dominate. The owners of Machofucker have dubbed this video "Black hunk down" (a play on the words of a famous Hollywood movie), and I think it's a fitting description of what actually happened there!
Cristos & Reuben
Preview videos:

Click here to go to Machofucker and watch these bareback movies in their entirety!
MachoFucker is a fantastic site that features only macho-masculine men with very big dicks, and extreme bareback hardcore fucking. Lots of creampies too. Machofucker tops are very aggressive fuckers and you'll be able to feel the energy and stamina coming from them.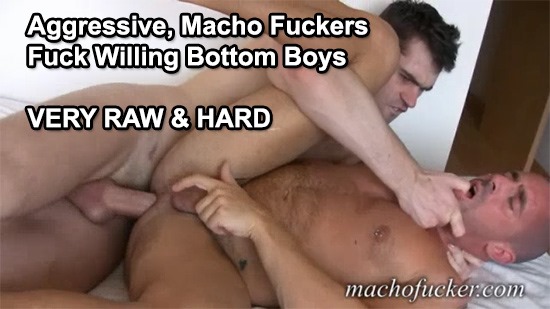 3 Comments
:aggressive tops, bareback fucking, Breeding, Cristos, Hector, huge cock, Lisbon boy, monster cock, muscled, Reuben, tag-teamed
Click For More...
by Ben Daniels (Admin) on Oct.11, 2015, under Chaosmen
Reuben is a hot young electrician who wanted to make some extra cash doing porn. He's 21 years old and is totally crazy about all kinds of girls. He says he's not picky about girls at all! When we proposed him some work with other guys he said he would need some more time to think about it. Interestingly enough, he says that he already had one gay experience: Once, when he was completely drunk, a guy sucked him off and it wasn't half bad either. But despite this experience he'll need some more time, which is fine with us.
However, as far as regular solo jerking off goes, he was totally up for that! He says he really needs some extra cash so that he and his girlfriend can move to a better apartment. In order to get here he needed to fly with an airplane, which was his first time ever. He never stepped outside his home state, so there were a lot of new things and firsts connected with this little adventure. Reuben says he was really impressed by all the landscapes and scenery he got to see through the plane window.
Reuben's cock measures about 6 inches and he can get it hard in no time! He likes to jerk off using both his hands, but also likes to take a break from time to time, which was great because we got to see his cock in all its hardened glory. He's certainly not terribly gentle with his cock and likes to manhandle and slap it against his hand often. He didn't have any issues with showing off his hairy ass, either. Reuben says he experimented with massaging his prostate quite a few times, but he didn't show us that on this occasion. Perhaps next time?
As far as the cumshot is concerned, boy oh boy… it seems our straight electrician saved up his load for about one whole week! Check out that huge geyser of cum that starts exploding and seems to go on and on…  Although the cumshot was certainly epic, Reuben remained almost totally quiet, which suggests he was distracted by the camera. There's time to get used to it, though.
Reuben will be back with us in about 10 days, when he'll probably get a blowjob from one of our guys. 
Preview video:
Click here to watch their entire video in HD quality at Chaosmen!
Chaosmen is a great porn site that features hot straight and bi men getting serviced or fucking their mates bareback for some cash. This site is exceptional and very unique because almost every single fucking is bareback and ends with a gorgeous internal cumshot or creampie.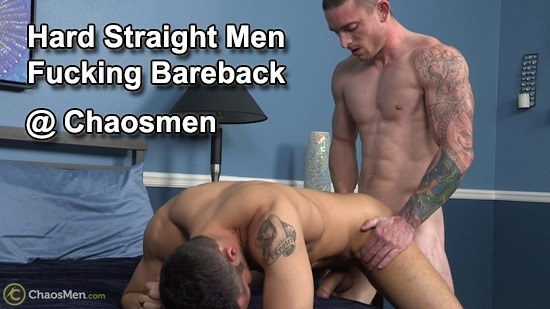 2 Comments
:big cumshot, blue eyes, electrician, goatee, handsome, jerking off, muscled, nice cock, Reuben, showing asshole, straight men, stroking cock
Click For More...