Tag: reverse cowboy
by Ben Daniels (Admin) on Oct.05, 2013, under Men Dot Com, The Gay Office
Tony Rivera experiences a sweet torture every day at his work. Namely, he's totally in lust over his boss, manly stud Tomas Brand. And when you see Tomas you can understand why. This mature Swedish stud is all man from top to bottom. He is quite muscled and has one of the thickest, largest dicks I've ever seen.
Tony's lustful feelings didn't go unnoticed by Tomas, and one day he decides to show his true feelings his hot cute employee. Tony willfully accepts the challenge and lets his mega-hung boss take advantage of his tight ass.
There was some real chemistry between these two masculine guys – a lot of kissing throughout the video and the men changes several interesting positions, including the cowboy reverse style.
First off, the two men exchange blowjobs, and since they're both quite hung it's interesting and hot to watch them deepthroating each other with such gusto. Next, Tomas rims Tony's eager ass and makes it nice and wet for his raging dick.
Tomas first fucks his cute employee doggy style, pounding his ass hard and deep. Again, it's impossible to underestimate their passion, they really appear like real lovers, it's obviously not just a sex thing.
Then they change the position into reverse cowboy style. Tomas fucks Tony's ass and I could almost see the sparks flying from such intense passion between the two men.
Then they change to missionary position and finally Tony gives Tomas another blowjob. Tomas wants to return the favor but he knows that Tony would prefer something in his ass instead of a blowjob, so he pushes his fingers into Tony's ever willing ass. This goes on until Tomas actually manages to make Tony cum, and Tony shoots his load with Tomas' finger still in his ass massaging his prostate.
Tomas jacks off his humongous tool until he shoots his load as well, which ends up on his muscled chest and stomach.
Preview video:
Click here to watch their entire video in perfect HD quality at Men.com!

The Gay Office is a great new porn site from the owners of Men.Com. The site features hot men in their office clothes – usually suit, white shirt and tie – getting some long needed break from work. If hot men in office clothes are your thing, this is surely a site for you!
Additionally, if you buy a membership for The Gay Office you can access ALL other sites in theMen.Com network of sites!

Leave a Comment
:beard, big dick, blowjob, deepthroating, hardcore fucking, mature men, reverse cowboy, thick cock, Tomas Brand, Tony Rivera
Click For More...
by Ben Daniels (Admin) on Mar.29, 2013, under Chaosmen
Sometimes the pairing of two guys is so good that you can literally feel the sparks flying between them. Such was the case with Aries and Jet. It turns out, Aries is a fantastic top and can pummel some man ass very good. Our best bottom Darius gave the highest marks to Aries for plundering his ass like a pro.
Today I figured Aries would do well with Jet, who has been perfecting his bottom role for a while now. Jet knows how to ride a man's cock, cowboy, reverse cowboy – he does it all and has reached a state of perfection in that.
Both guys were pretty keen on doing this together. First they exchange tips on working out in the gym, then they start kissing. Soon enough Jet takes Aries' hard cock in his mouth and gives a mouthwatering, wet blowjob. Then they switch to the fucking mode and Aries lies on his back, with his dick fully erect and sticking like a rocket. Jet just sits on it and begins to ride it reverse cowboy style. 
This must have made Aries horny as hell, so he begins to thrust and push his cock in Jet's ass, fucking him real hard with long, passionate strokes. Jet had to stop jerking himself off because he would have cummed too soon. Aries' thrusts are relentless and every one of them brings Jet ever so close to cumming.
Aries is actually a ladies' man, he really likes to fuck women, and now that I've seen how skillfully and passionately he fucks, I am seriously thinking about shooting some straight porn with him. Damn, those thrusts must feel awesome!
Jet now faces Aries with his face forward and we can appreciate the view of Aries' cock sliding in and out of his tight ass. I told Jet to go on his back as it is a better position for him.
Now Aries is fucking Jet while Jet is on his back, it's a classing "legs up in the air" position.
Finally, Jet pushes his face into the bed and his ass is sticking up in the air. Aries is pounding him like a horse in this position. Aries is fucking him like that, and it was obviously too good for Jet so he starts to shoot his load while Aries is drilling his asshole. Jet is surely an easy cummer, and can cum just about any time he wants!
Aries continues to fuck Jet and then jerks off his cock, while his cum squirts just above Jet's hole. That was not quite what I wanted (gotta keep that ass tunnel at hand) but it was hot nevertheless. Aries scooped up his sperm and pushed it into Jet's ass with his finger, fucking him like that for a while!
Preview video:


Click here to watch their entire video in HD quality at Chaosmen!
Chaosmen is a great porn site that features hot straight and bi men getting serviced or fucking their mates bareback for some cash. This site is exceptional and very unique because almost every single fucking is bareback and ends with gorgeous internal cumshot or creampie.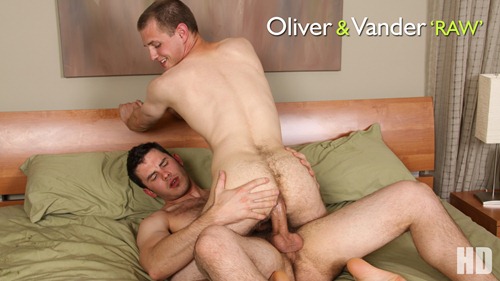 Leave a Comment
:aggressive fucking, Aries, bareback fucking, big dick, creampie, cumming while being fucked, cumshots, hairy legs, handsome, Jet, masculine, reverse cowboy, straight guys
Click For More...