Tag: rugby outfit
by Ben Daniels (Admin) on Feb.17, 2017, under HardBritLads
Jack Saxon is a hot mature sexy daddy! This sexy 36-year-old man is 6'3" tall, has strong muscled body (especially broad shoulders) and all in all looks pretty rough and rugged around the edges. He loves to play rugby and we couldn't resist telling him to come to the shoot wearing one of his sports kits – right after a game, and complete with mud stains and sweat. We went to an old building so as to make the backdrop equally rugged as the main protagonist of the film!
His hand quickly finds its way to his rugby shorts, and even while his cock is inside you can tell it's a big and thick beast. He also plays with his nipples. His shirt goes soon and we can enjoy his nice, beefy and slightly hairy chest. His shorts are gone soon as well, and we can now see his very thick and curved dick in all its glory. Jack's cock is uncut, with plenty of foreskin, and Jack loves to play with it.
He puts on some spit on it to make the masturbation easier, and keeps playing with his nipples as well. His cock remains rock hard throughout the entire shoot. Finally, Jack goes to sit on the ground and leans against the wall. He obviously loves to show off his foreskin, and continues to play with it. He also tugs and plays with his balls, and this makes his cock jump and pulsate.
We can tell he's already at the edge of shooting, he then stands up and shoots a nice hot load of warm jizz, some of which almost hit the camera lens!
Click here to watch his entire video in perfect HD quality at Hard Brit Lads!
Hard Brit Lads is a relatively new porn site that features only the most masculine and well-built straight and bisexual guys showing off and fucking the shit out of each other. Videos are well-made and shot in HD. Don't miss out lots of amazing, manly men!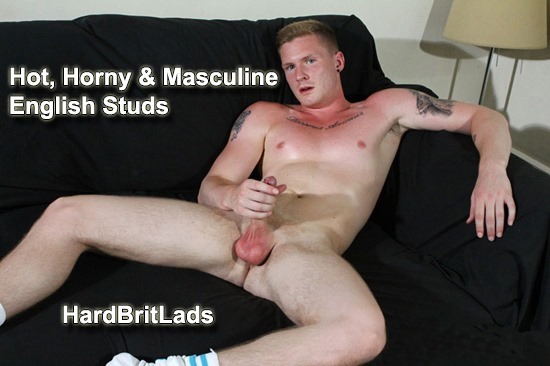 1 Comment
:beefy, big cumshot, big dick, daddy, fat dick, foreskin play, hairy, Jack Saxon, jerking off, muscled, outside, rugby outfit, rugby player, shaved head, stroking cock, thick cock, uncut dick
Click For More...
by Ben Daniels (Admin) on Jul.10, 2015, under CFNM
Brian Sturgeon is a hot, hairy straight rugby player. He's very popular, both as a player among men, and as a sex symbol among women. While walking up to see Kimberly, the team psysiotherapist, Brian thinks to himself, "I really got it made here"!
But his cocksure attitude is going to be put in check by the stern physiotherapist. He knows that he must obey anything she wants of him, including getting totally naked and letting his his genitals be fully examined. Kimberly seems to be amused and enjoys examining this beefy hairy sportsman, but her tone of voice is still authoritative. It's not so hard to foresee where this would lead… For instance, I can already tell that Brian's cock isn't going to withstand Kimberly's touches without getting hard.  
Click here to watch their whole video in HD quality at CFNM (Clothed Female/Nude Male)!
Clothed Female Naked Male (CFNM) is a very hot site for lovers of truly straight guys. It's a little tongue in cheek but the men are fuckingly hot!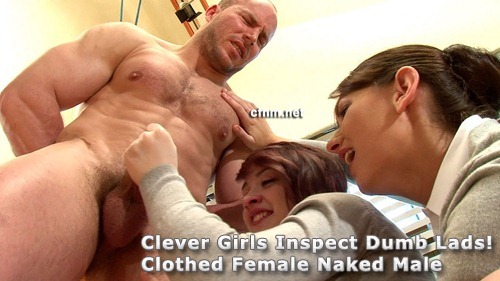 1 Comment
:beard, beefy, Brian Sturgeon, examined, female domination, Fingering Ass, hairy, Kimberly, muscled, physiotherapist, rugby outfit, rugby player, sportsman
Click For More...