Tag: Slate Steel
by Ben Daniels (Admin) on Sep.08, 2013, under NextDoorBuddies
Here's some interesting glory hole action. Johnny Torque is sitting in the bathroom stall preoccupied with his thoughts, when suddenly someone walks in. Slate Steel senses that there's someone in the stall next to him so he kneels down and looks through the glory hole. The only thing that he could see was Johnny's erect cock. Johnny knows that Slate is watching him, and that was another reason to continue with the dick stroking. Johnny has an exhibitionistic streak in his character, he just loves being watched while stroking his cock, and this time he knew there would be some action. Johnny stands up and puts his erect cock through the hole. Slate knows the game and eagerly puts the offered dick in his mouth.
While Slate is slobbering all over Johnny's manmeat, the only noises that he can hear from Johnny are weak moaning and groaning. Slate decides it's time to show Johnny his true cocksucking talent, so he starts to deepthroat him. Finally, Johnny and Slate come out of the stalls and face each other. There's an instant chemistry between the two men and it was pretty obvious that this meeting wouldn't end with just a blowjob. But first, Johnny feels the urge to reciprocate and starts to blow Slate.
However, Johnny is an ass man, he loves to fuck ass, so his main focus was Slate's delicious smooth manhole. Johnny positions Slate in such a way so he can penetrate him from behind. Slate takes a few deep breaths and Johnny's dick is now deep inside him. Now Johnny is fucking Slate really hard, while his balls are slapping against Slate's butt and legs. The two men change the position and now Johnny is fucking Slate while they're lying on the ground. After some time Johnny fucks the cum out of Slate, his copious cumshot hits the floor and makes quite a mess. Soon enough Johnny follows suit and shoots his load. Nice fuck scene with two hot, straight-looking men.
Preview video:


Click here to download their entire video in perfect HD quality from Next Door Male.
Next Door Buddies is a porn site that features the typical "guy next door" types of men having some hot man on man sex with each other. These guys are usually either really straight or straight looking, although there are of course hot gay guys as well. The stories are a bit cliché but the quality of production is pretty high and the men are usually really good.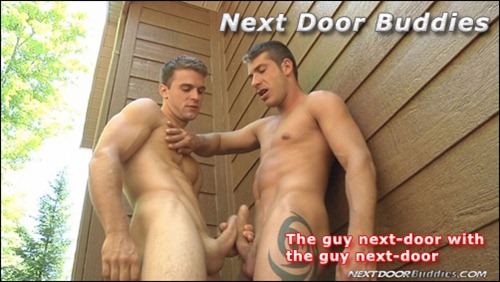 Leave a Comment
:Big load, blowjob, fucking, glory hole, Johnny Torque, muscles, Slate Steel, tattoos
Click For More...
by Ben Daniels (Admin) on Jun.13, 2013, under NextDoorMale
Slate Steele is a hot and very friendly straight dude. His passion is bodybuilding and he wants to become a really strong man. He's also a little cocky but we like them straight boys just like that, don't we?
Slate Steele is not a stupid muscle man, though. His interests are broad and he has a philosophical approach to life. He thinks that Life is a ride that eventually ends for everyone, but it's just a ride, so we should enjoy it while it lasts.
Unsurprisingly, Slate is very proud of his massive muscles and strong body. He works very hard to build those muscles and I'm always the first to commend young studs for their hard work.
We meet Slate in the gym, and he first shows us several of his workout regimes and exercises. His chest is really strong, brimming with hard, strong muscles everywhere.
After a hard workout, Slate decides to take a little break and relax by wanking his cock. He sits there and first shows us his jock and the big package that is hiding inside. He goes slowly and fondles his cock and balls first.
His dick springs to action fairly fast and he continues to play with it, pushing it down and letting it snap back against his six pack abs. If you think this is hot, just wait to see him going full force and stroking it more resolutely.
After some time Slate releases his seed which shoots all over the place, spunking the entire gym floor. Well, that's what happens when you invite a stud in your private gym!
Preview video:


Click here to download his entire video in perfect HD quality from Next Door Male!
Next Door Male is a porn site that features young masculine and usually straight or bisexual men who have that typical "next door guy look". If you like your men natural, buffed up, hung and manly then this is the site for ya!
1 Comment
:Bodybuilder, jerking off, muscled, muscles, nice cock, Slate Steel, straight men, strong body, tattoos
Click For More...