Tag: sports clothes
by Ben Daniels (Admin) on Apr.05, 2017, under TheCastingRoom
We've already seen hot young straight dude Max (check out his first appearance here), but this time round Max is going to experience something more. Max is determined that he should become a porn actor, and although he's quite confident with women and playing in straight movies, he starts to realize that in order to become really well-paid in this biz you gotta have sex with men. And he volunteered for this audition where Dave and Adrian his buddy perform free educational service for young aspiring straight porn stars!
At first Max didn't like the idea of getting his sphincter licked and his ass penetrated by another man's cock, but as time goes by he starts to enjoy it more and more… and when Adrian shoved his big cock into that ass, it was so tight that you wouldn't believe it!
Max also got a free lesson in the art of cocksucking, where the student must first learn how to avoid the gag reflex in order to service a man's dick properly. Max then wanted to return the favor and slid his nice hard 18-year old dick up Adrian's arse. Adrian encouraged him to fuck him hard like a real man. We think that Max has a great future in the porn business: his cock gets hard easily and fast, he's got that sporty looks and his ass is as tight as they come.
Click here to watch his entire casting video in HD quality at The Casting Room.
The Casting Room (formerly known as First Auditions) is a great, original porn site that showcases young, cocky straight men who would like to become porn stars and make loads of cash. They think that they'll be accepted right away and be able to fuck lots of girls, but they don't know that our casting director is very strict and wants to fully inspect them during the audition. He orders them to get fully naked, show their ass, and jerk off so that we can clearly see the cumshot. Plus, we get to hear all their fetishes and what turns them on.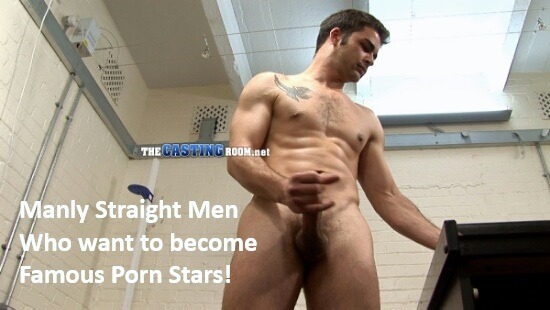 1 Comment
:amateur guys, Audition, bareback fucking, Baseball cap, beard, blowjob, facial cumshot, gay for pay, max, rimming, sports clothes, straight men, straight to gay, tattoos
Click For More...
by Ben Daniels (Admin) on Sep.28, 2015, under Manavenue
Handsome muscular straight stud Martin Matousek came over to our place for a photoshoot and to make a video. We love models such as Martin because they pretty much know exactly what we need without even us explaining much in the way of erotic photography. We first made several shoots of Martin while he was still in his sports clothes. Then he slowly starts getting naked, removing bit by bit of his scanty sports kit.
One thing that you'll immediately notice is that as soon as Martin's big uncut cock gets hard, it never goes limp until the very end of the shoot. He can flex his muscles and show off as much as he likes but his cock remains stiff hard and points straight into the ceiling – we defo love that!
Martin flexes his muscles and walks around the room now totally naked and with a raging hardon. Martin admits he's a big showoff and loves the attention from the cameraman. He knows very well that tens of thousands of horny people will be jacking off to his pics and videos and that makes him extra horny! He continues to strut his stuff, walking butt naked all around the room with his fully erect cock, then lies back on the couch to focus on his gorgeous big dick. He strokes it a little while playing with his man hole as well.
He even does some pushups on the floor, and his erection doesn't go away at all. Martin says that he needs to do the pushups in order to make his muscles fully hard so that in the photoshoot his muscles look impressively big.
Martin then focuses on his cock again and strokes it until he shoots a beautiful messy load all over himself making a total sticky, spermy mess on his six pack. Just the type of horny motherfucker that we love to showcase on this blog.
Preview video:
Click here to watch or download his entire video in HD quality at Manavenue!
Manavenue is an exceptionally good porn website that features masculine, cocky, muscled, powerful straight men, the type of guys that grab your attention while you're secretly ogling them in the street or in a supermarket. These tough motherfuckers are aware of their sexual appeal and want to show you everything they've got.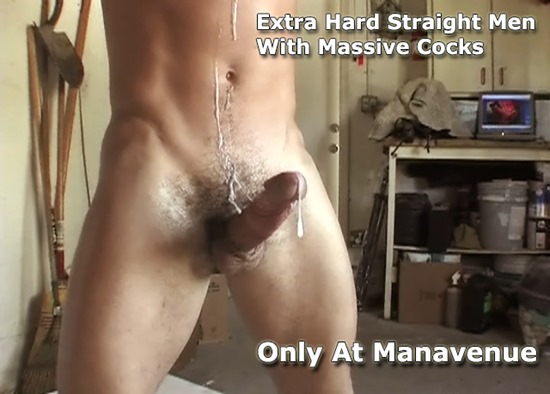 8 Comments
:big dick, cumshot, east-european men, flexing muscles, Martin Matousek, muscled, muscles, six pack abs, sports clothes, straight men, tattoos, thick cock, uncut cock, walking with erection
Click For More...