Tag: straight man fucking man
by Ben Daniels (Admin) on Jun.26, 2013, under StagHomme
I was at a nearby park near my old primary school this afternoon and while I was leisurely walking by a hot dude in trackies walked by me with his girlfriend. Then they sat on a bench and goofed around. I thought to myself "gosh, wouldn't it be nice to have such a hot guy next to me in bed".
As soon as I got back home I saw that the guys from Staghomme already found just such a dude for their latest "Straight Man Fucks Me" episode 6. I mean, talk about synchronicity.
This 21-year-old straight thug agreed to fuck Francesco D'Macho's face and ass. As soon as he enters the room we can see he's wearing trackies and there's something rather big in his crotch area, although still not fully hard. The straight thug fucked alternately Francesco's face and ass, and when he was about to cum he ordered Francesco to give him his face so he can spunk it.
His cumshot was really huge and Francesco's face got a nice big dose of straight spunk. Certainly something to remember and keep watching again and again.
Preview video:

[jwplayer config="firstplayer" file="http://www.roughstraightmen.com/wp-content/videos/straightmanfucksme6.mp4″ image="http://www.roughstraightmen.com/wp-content/videos/straightmanfucksme6.jpg" html5_file="http://www.roughstraightmen.com/wp-content/videos/straightmanfucksme6.mp4″]
Click here to watch their whole video in perfect HD quality at StagHomme!
Staghomme is an amazingly fresh gay porn site from Spain with completely new and imaginative hardcore porn and hot, very masculine European men which you won't find anywhere else. This is not bland forgettable porn – it's something you will want to have on DVD and watch many times! They basically cover all the dirtiest fantasies you could ever come up with!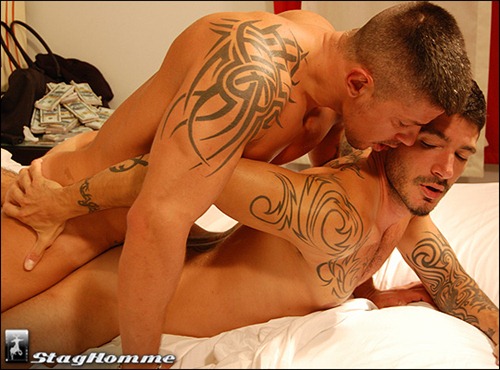 Leave a Comment
:bareback fucking, big dick, facial cumshot, Francesco D'Macho, masculine, straight man fucking man, sweat suit, trackies
Click For More...
by Ben Daniels (Admin) on Jun.28, 2011, under FUCKoffGUYS
In the second set we have our old friend Walker Micheals whom we also already know.
When we mentioned to Walker that we plan a new site with amateur straight dudes to fuck a gay dude for the first time, he was all over it. He wanted to be one of the first guys featured on the site. And he was also enthusiastic because he felt already comfortable with Aaron.
Walker was so horny that his soldier was already standing at attention and almost wanted to burst out of his pants. When he took off the pants his dick was already hard as a stone and pulsating with desire to fuck.
First Aaron gives Walker a blowjob and then proceeds to his manhole to lick it. Walker sits on Aaron's face so as to allow him to get the proper taste of his asshole. Aaron uses his tongue to fuck Walker in his ass.
Next Aaron gets on all fours and Walker slides his dick into Aaron's TIGHT ass. Walker didn't believe how good it feels to be inside a man's hole. It's so tight and warm. You gotta see Walker's face expression when he realizes how great it feels inside a man's ass!
Walker spreads Aaron's ass cheeks and you can easily see his cock going in and out. Aaron gets into his element and spanks Aaron's ass while he pounds him harder and harder.
Aaron is now on his back, with legs up in the air. He wants to be dominated and treated like a submissive bitch. Walker climbs on top of Aaron and sticks his hard cock, now he fucks him real hard. Meanwhile Aaron plays with Walker's nipples which drives him even more insane.
After some more rough pounding, Aaron can't take it anymore and pulls out, and puts his dick over Aaron's mouth. He shoots a hot load of cum inside and over Aaron's mouth, tongue and face. There is a lot of cum and it truly flies in this video!
Short preview video:



Click here to watch their entire movie in perfect HD quality at FUCK off GUYS!
Leave a Comment
:aggressive fucking, blowjob, cumshot, FUCK off GUYS, rimjob, straight man fucking man
Click For More...