Tag: tennis player
by Ben Daniels (Admin) on Jul.03, 2015, under CFNM
We continue our story about hot tennis player Marcus who found himself in an unusual predicament – standing totally naked and surrounded by hot clothed women (you can read previous parts here and here).  You can also check him out in this post which he made for Englishlads (there's a nice little video interview with him on that page).
Kimberly Ince and Melody Eustace are gleefully inspecting this hot hunk from head to toe, paying special attention to his gorgeous huge stiff cock. Although he's not cool with this situation, he knows very well that if he refuses to comply these women might decide he's not worthy of all the money they've invested in him so far. "The sponsors must be obeyed", is the mantra that he's been taught ever since he started his sports career.
The female sponsors are very pleased with Marcus' exceptionally hot and masculine body. For these women Marcus' hairy chest and big pulsating cock are the best guarantees that their money has been spent well, and on the right sportsman!
Click here to watch their whole video in HD quality at CFNM (Clothed Female/Nude Male)!
Clothed Female Naked Male (CFNM) is a very hot site for lovers of truly straight guys. It's a little tongue in cheek but the men are fuckingly hot!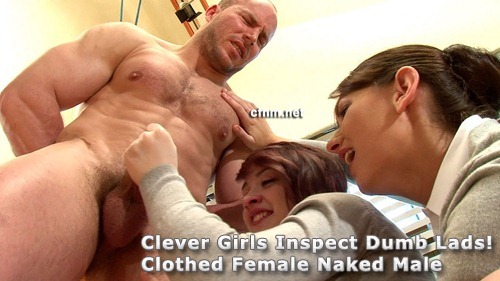 2 Comments
:big dick, clothed females, Fingering Ass, hairy chest, handsome, inspected, Marcus, naked men, spontaneous erection, stiff cock, tennis player, thick cock
Click For More...
by Ben Daniels (Admin) on Jun.03, 2011, under BreederFuckers
Gabriel is a rising and promising tennis player who has become a bit too conceited and lulled into his own success. Time to show him some discipline and pain, thought Straighthell tops Adrian and Dave!
They bound him with ropes so he can't escape and they're forcing their hard cocks into his mouth. This poor straight lad is left completely humiliated, his straight ego violently shattered because Adrian and Dave leave no stone unturned.
They bound his dick with his nipples so he can't move much, and if he does it produces a sharp, excruciating pain.
It turns out this self-conceited straight boy was a relatively easy nut to crack, especially when Dave and Adrian started to whip the boy's naked feet with a cane.
To round things up these pervy men keep Gabriel's mouth open and piss down this overly proud straight dude's throat.
Short preview video:
Download and save merciless new BDSM videos from StraightHell!
If you prefer your porn to be on the kinkier side, you should definitely check out StraightHell, a site devoted to hot straight guys being tormented by big mean studs
Leave a Comment
:Adrian and Dave, aggressive men, BDSM, discipline, forced blowjob, Gabriel, pain, pissing, ropes, tennis player, tied, Tops
Click For More...