Tag: unwilling erection
by Ben Daniels (Admin) on Sep.20, 2014, under CFNM TV
Henry is a young hot lad with a huge stiff cock. When he got an invitation for a medical examination a few days ago he didn't have the slightest idea that it would turn into something like this. He thought it would be just a regular medical checkup, but the ladies that work in the medical facility that performs these examinations are too smart and too horny to let such a hot male specimen get away without getting their hands on him.
Henry is ordered to take off all his clothes and let the clothed ladies inspect his masculine beefy body. The ladies also ask very direct and personal questions about his life and body, and when he starts telling them what kind of thing and sexual fantasies turn him on, his cock begins to get hard. Although Henry doesn't want it to happen, his dick has a mind of its own and gets totally hard and stiff. The ladies are thrilled and continue to touch him, dominate him and do all kinds of kinky stuff with their patient. I can tell there's going to be some kind of milking service as well.
Click here to watch their entire video in HD quality at CFNM TV!
CFNM TV is a brand new site from the creators of sites such as CFNM, Brutal Tops, Breeder Fuckers, The Casting Room and CMNM. If full-length videos of hung masculine men being dominated by beautiful horny women turns you on, you're certainly going to enjoy this site. It is actually the video site specific CFNM site that's made especially for those who prefer videos to photo stories.
1 Comment
:clothed females, female domination, fit body, Henry, huge cock, inspected, naked men, stiff cock, tattoos, unwilling erection
Click For More...
by Ben Daniels (Admin) on Dec.15, 2012, under CFNM
John is a hot swimmer and he has signed an agreement with a big clothes manufacturer to wear their gear and clothes and thus promote them. In return they promised to sponsor him and pay for whatever he wants to wear.
However, today the female officials at the CFNM Games find out that John's swimming trunks are not up to standard and must be taken from him. The nasty females poke and prod John, and all this causes him to become horny and get an erection.
The girls are relentless, however, and they strip him down so that he only wears his trunks now. In a second or two, his trunks are also gone and the girls can get a nice view of his young penis. The women scrutinize him and his penis, making judgmental remarks all the time. John can't stand this new situation and soon enough grows a big erection, which causes further embarrassment.
Click here to watch their whole video at CFNM (Clothed Female/Nude Male)!
Clothed Female Naked Male (CFNM) is a very hot site for lovers of truly straight guys. It's a little tongue in cheek but the men are fuckingly hot!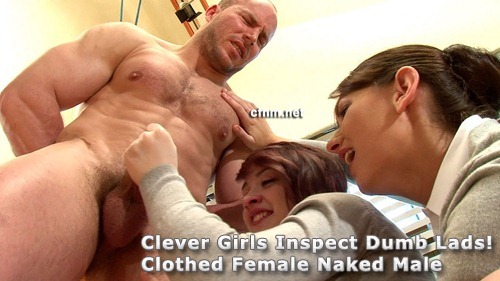 Leave a Comment
:female domination, female officials, females inspect males, humiliation, John, lean body, penis examination, swimmer, Swimmers Body, unwilling erection
Click For More...