Tag: Xavier
by Ben Daniels (Admin) on Jul.24, 2013, under TheGuySite
I'm not particularly fond of really heavy muscles, but Xavier is one of my favorites. His huge, mountain-like muscles look great on him and he certainly looks like a huge stud.
This is his solo movie in which he exposes his naked muscled body for all of us to see. He speaks honestly about his tattoos and the circumstances that led to their creation.
The shower scene was particularly hot and I liked the hands-free cumshot!
At the moment Xavier doesn't want to do any scenes with other men, but I remain hopeful. However, I managed to talk him into jerking off with another guy (standing next to each other). He admits that that is the very first time for him to be in the presence of another guy during masturbation, so it should be interesting.
Click here to watch his entire video in HD quality at The Guy Site!
The Guy Site is a great destination for all lovers of amateur, "next-door" type of guys. These guys are not always ripped and perfect, they look more average, but just because of that they are more authentic and hence more realistic!
When you go and walk around your neighborhood you're more likely to  meet one of these hot "next-door" dudes than some perfect bodybuilder. That's not to say that there are no bodybuilders on The Guy Site, but even they are amateur types. That's why I really like The Guy Site. Certainly worth checking out.
1 Comment
:beard, big cumshot, Bodybuilder, hairy chest, hands-free cumshot, interview, jerking off, muscle god, tattoos, Xavier
Click For More...
by Ben Daniels (Admin) on Mar.26, 2013, under Chaosmen
When I read his first application online and saw some of his tats, I really expected Xavier to be some more rough, thuggish kind of fellow. But, he is a very quiet, calm and charming manly dude, with a special charisma and sexual energy and frequency.
Although his sexy, muscular body is covered with tattoos, his face discovers a more friendly, gentle look. He is sweet, manly and sexy all at the same time.
Xavier is a hetero guy, he was not really happy to hear about my proposal to get intimate with another dude, but kinda agreed to record this solo scene, although reluctantly. He wasn't actually concerned much about showing himself to other people, as was the fact that another guy (me) would be there with him in the same room while he pleasures himself. Damn, are these straight guys complicated sometimes! Anyway, after some time he gets over it and is ready to go.
As soon as he grabbed his cock, it grew like in… seconds and just appeared in its hard shape. It is defo a nice, large and fat dick and I can bet it would be a fantastic cock to suck.
Xavier's ass is also very alluring. It is a typical bubble butt, and that hole almost begs to be rimmed and licked.
Xavier's cumshots are quite interesting as well. At first he jerks off like a madman, but then he slows down, it's really like a slow motion but in real time, so we can see better his amazing jizz shooting from the tip of his big dick.
Let's see if this straight boy will go to the next level and try something more!
Preview video:
Click here to watch Xavier's entire video in HD quality at Chaosmen!
Chaosmen is a great porn site that features hot straight and bi men getting serviced or fucking their mates bareback for some cash. This site is exceptional and very unique because almost every single fucking is bareback and ends with gorgeous internal cumshot or creampie.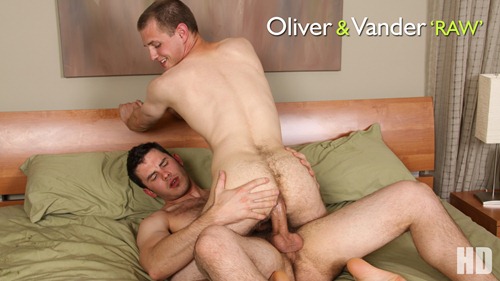 Leave a Comment
:beard, big cumshot, big dick, Big load, calm, facial hair, fit body, jerking off, manly, sexy, strong body, tattoos, Xavier
Click For More...