by Ben Daniels (Admin) on Jan.02, 2018, under Bentley Race
The owner of Bentleyrace, Ben, went to Europe for his pre-Christmas trip, and while he was there he ran across his old buddy David Ivan. We've already seen David a few times in the past and it's always refreshing to see this beefy Bulgarian hunk again.
David looks better and beefier than ever and he was quite eager to show off his assets for the camera. David caused quite a stir among the viewers when his first jackoff videos appeared earlier this year. So why not do a sequel, Ben thought to himself.
David takes off his clothes and shows off his strong arms and beefy muscular chest. Let's not forget David's magnificent big fat cock! That beauty alone is worth the entire picture set. David then fucks a fleshlight (his first time to do that). And so it happens that David really got to like fucking that little toy… he kept fucking it until he shot a load of jizz into it.
David is a very nice, laid-back dude and it's always great to talk to him. We do hope that he's become a regular model at Bentleyrace, and that we'll be seeing more of him in the upcoming months.
Click here to watch their entire video in HD quality at Bentley Race!
Bentley Race is a very cool site from a cool guy from Down Under. He manages to find some really interesting and hot amateur men that often cannot be seen anywhere else. These guys are real amateurs and rarely become high profile porn stars. They're all natural and many of them are truly straight. Do check out BentleyRace!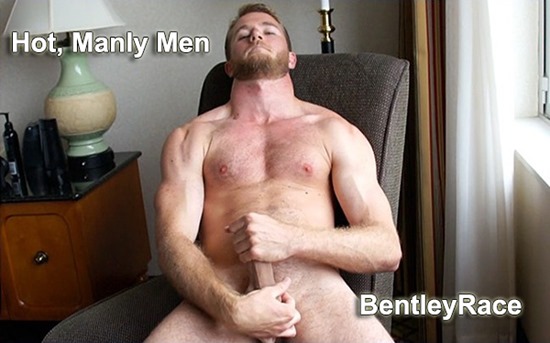 :beard, beefy, Big Arms, big dick, bulgarian men, David Ivan, fat cock, fucking fleshlight, jerking off, muscled, posing naked, smile, straight guys