Tag: customs officers
by Ben Daniels (Admin) on Aug.07, 2013, under CFNM
Michael is a very hot young straight dude who wanted to go to a tropical island for his holiday. However, the girls that work as the customs officials thought that he looked a bit suspicious and decide that a thorough search is needed.
The poor lad can't do a thing but give in to the girls' demands. He lets them remove his clothes and, unsurprisingly, the first thing they go for is his penis and balls. The girls think that his private parts are an important clue regarding his hidden motives on this trip.
The girls are touching and groping his genitals without any regard for his feelings whatsoever. Michael feels utterly awkward, but he can't help but grow an erection while all those hot females around him are touching his dick and balls… after all, the law is the law, and he must abide by the rules.
Click here to watch their whole video in HD quality at CFNM (Clothed Female/Nude Male)!
Clothed Female Naked Male (CFNM) is a very hot site for lovers of truly straight guys. It's a little tongue in cheek but the men are fuckingly hot!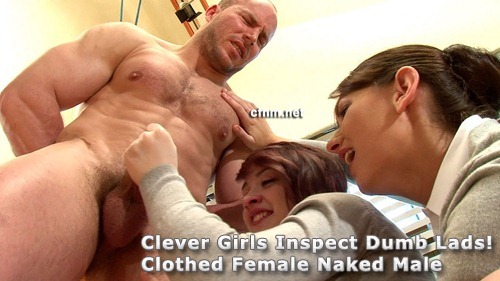 Leave a Comment
:clothed female naked men, customs officers, female domination, hairy chest, inspected, straight guys, touching naked men, young dude
Click For More...
by Ben Daniels (Admin) on Jun.14, 2013, under CMNM
Nobody likes customs checks when you are entering another country. It can get really tough and scary sometimes. The UK Border Squad are totally aware of the terrible power they can wield and they often misuse it.
Kieran is a hot straight dude with a shaved head and his masculine looks triggered the curiosity of the police officers. Kieran is very tired and doesn't like when cops are messing around with his luggage. Unfortunately for him they discover something that he should not be carrying in his luggage and he knows they can now blackmail him as they wish. They literally have him by the balls.
He didn't expect that these police officers would make sexual advances towards him, however. He thought maybe they'd ask for some money, but instead the pervy cops are more interested in his manly fit body and his cock. The police officers are wearing their usual uniforms and look tough and unforgiving. They order Kieran to strip down and stroke his dick. Kieran knows that he must comply or risk long prison sentence. This manly straight lad is forced to stand motionless and allow the pervy cops to do whatever they please with his balls and cock. It seems that a sperm sample is the first thing on the menu, but won't be the last. 
Preview video:


Check out these pervy men's whole videos in HD at CMNM now!
Clothed Male / Naked Male (CMNM) is a superhot porn site where Nervous straight guys get stripped naked, groped and violated by fully clothed men.
There's nothing better than stripping straight lads completely nude, putting their bodies on display, and teaching them exactly how to submit! When they are in such a submissive position, one would be crazy not to use the opportunity and jerk them off!

Leave a Comment
:customs officers, domination, forced handjob, inspected, Kieran, police officer, shaved head, uniformed men
Click For More...