JalifStudio
by Ben Daniels (Admin) on Jun.10, 2019, under JalifStudio
Jordan is a hot active top guy who is pretty much perpetually horny. He's always ready for some hard action. So a few days ago when he was visiting a hotel pool at night, he kicked back on a chair and immediately got a raging hardon. He slowly massages his big swollen dick through his shorts and patiently waits for someone equally horny to join him.
Enzo Rimenez walks in and sees the muscular, handsome, blond guy with a huge bulge in his shorts. Enzo can't help but be irresistibly drawn towards Jordan, with only one thing on his mind – to suck that big juicy cock right then and there!
The two guys exchange passionate kisses, enjoying the sweat on each other's bodies. The steam in the room makes them even more horny and sensual. Enzo is definitely ready to receive Jordan's huge dick up his arse, so he bends over to fully expose his bare butt for Jordan's tool.
Jordan is an expert at fucking, and he does his best to thoroughly drill Enzo's willing hole. Enzo enjoys getting drilled by this hot alpha stud and submits to his guidance. After some time Jordan pulls out and shoots his big load all over Enzo!
Preview video:
Click here to watch or download their entire video in HD quality at Jalif Studio.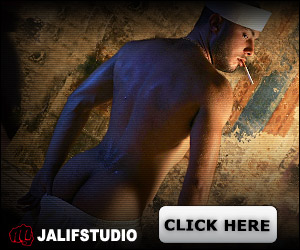 Leave a Comment
:big cumshot, big dick, cum, Enzo Rimenez, fucking, Jordan Fox, Oral, pool, rimming
Click For More...
by Ben Daniels (Admin) on Mar.23, 2019, under JalifStudio
It's already well-known among the players that Rod has a habit of fraternizing with the players of the visiting teams. His favorite thing to do with a hot cute player from a visiting team is to find a secluded spot after the game and have some hot fun with them there. The rumor has reached even to Rod's coach, Jordan Fox. Jordan is furious that one of his players should behave in such a slutty manner and decides to follow Rod to one of those secluded private randezvous places.
And just as he assumed, he finds Rod there in some unfinished house ready to suck the cock of anyone who might show up. Jordan is frustrated and makes Rod suck his huge fat cock instead! The manly coach whips out his big swollen cock and decides to teach his player a lesson about how to be a real man. Rod is embarrassed at first, but his eyes get wide opened when he sees the coach's huge cock! Eagerly, Rod starts sucking the coach's huge manmeat and submits to him completely. Jordan thinks that the lesson should be ended with some rough fucking, so that his player remembers it well. He easily bends Rod over and fucks his tight hole hard.
Preview video:
Click here to watch or download their entire video in HD quality at Jalif Studio.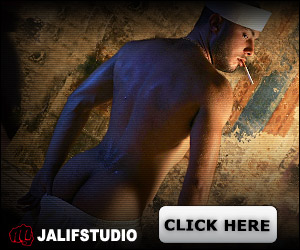 Leave a Comment
:big dick, blowjob, fucking, Jordan Fox, manly men, muscled, Rod Malek, rough men, Serviced, soccer coach, soccer kit, thick cock
Click For More...