JockMenLive
by Ben Daniels (Admin) on May.18, 2015, under JockMenLive
Here we have several hot muscle men who already participate on this new muscle site (Jockmenlive). If you sign up to become their member, you can have a nice chat with them and probably a one-on-one cam session as well. They're all great male specimens, with plenty of manly assets to show off so let's check them out. Obviously, the gym is their main hangout place so let's see what kind of pics they sent for this first appearance on the new site. The guys today include: David M Flex, Derrylman, Emilio, Farris XXL, Hercules Jock and Cocky Boy Alex. We will present them here along with their short textual intro that they wrote themselves.
David M. Flex
Hey guys, this is David. I'm a hot bodybuilder muscle puppy, but I can also be a muscle daddy if that's what you want. I love flexing and showing off! I like a nice chat and want to get know you better. Book a private show with me and let's see where we can take this. Here I am on the beach just last month. See how good I look? You want these muscles all for yourself? Then let's get to it!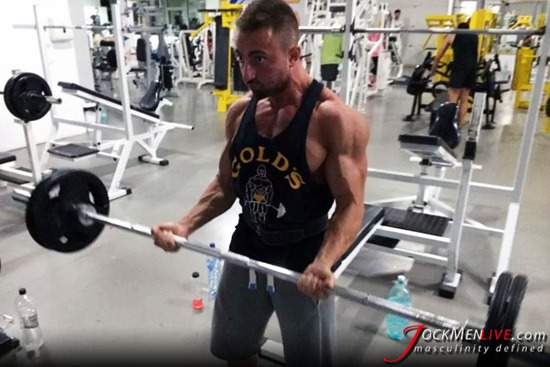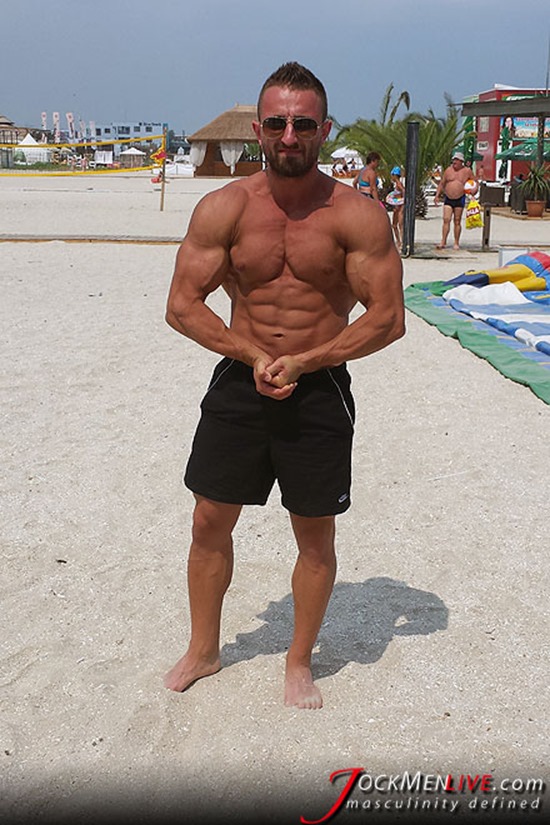 Derrylman
I'm a former porn actor. I'm a real man, and I have a lot of past experience to entertain in private. I have good tattoos I like to show off and I'm into real-man fantasies. What's your pleasure? Military? Daddy? Bears? College jocks? Take me into private and tell me all about it, and let's see if we can do something to relieve that itch of yours.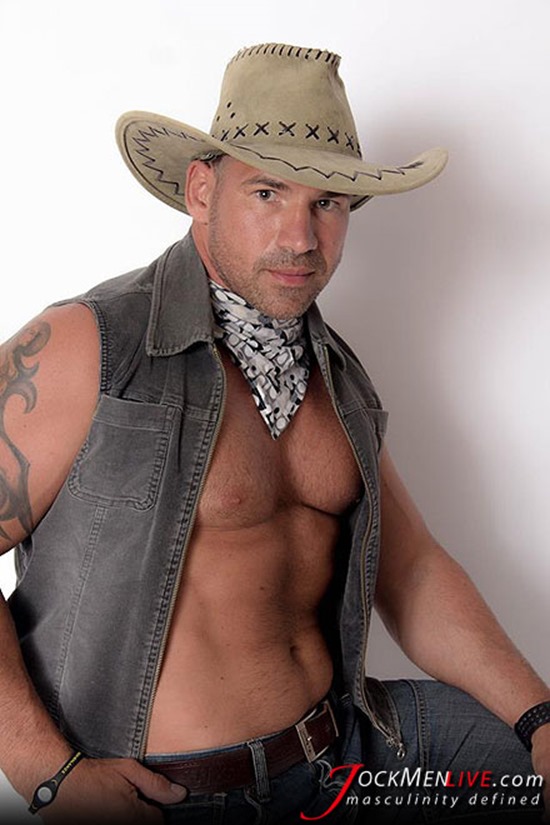 Emilio
There's not enough space here to describe myself. I will say just I am a man who love to build his muscles, and I have a well balanced body! Ripped abs, masculine, vascular. I will not talk here about how sexy my butt is, and how hot and horny I get when I show off my body (mirror flexing is a huge turn on for me). So take the time right now to find more things about me. You'll be glad you did. PS I am very handsome, too – if you like young muscle daddy types.
Farris XXL
Just in from the exotic Balkans region of Southeastern Europe, I'm Farris, and I will make you my next muscle worshipper. I've set my sights on going Pro in the bodybuilding world, and I'm well on my way. Check out these shoulders and arms covered in a sexy tribal tattoos, my tight midsection, and of course, these bulging quads! For me, determination, perfection and sincerity are part of my mantra, and this makes me the perfect addition at JockMenLive. It doesn't hurt that I'm friendly and easy-going. Take me into private chat, and we'll investigate a little more intimately just what it means to be a muscle star.
Hercules Jock
See my pix? Here I am just recently in the locker room after a super heavy workout. Sometimes I feel like Reg Park or Steve Reeves, those classic musclemen who flexed in all the muscleman Italian movies, which is why I call myself Hercules Jock! I was born for bodybuilding, and I'm working hard every day to improve my shape, and become the best! I enjoy sharing my results for muscle fans, and that's why I invite you to join me for great muscle sessions! I'll flex big muscles at you when we go private, and you can pretend I am rescuing you from some evil wizard! Let's do muscle fantasy together!
Cocky Boy Alex
Welcome, I'm Alex. I don't like to pretend that I am somebody other than myself. I like to communicate with people who have brains – if you're honest, I will be too. No bs, no games here. I love bodybuilding and I'm in love with this sport, working hard to improve myself. My muscle is clean and fit, like a professional fitness model, so if you prefer hard and clean and young to big and beefy and musclebound, come message me, and let's have a great time!Cocky Boy Alex
Click here to check out their entire photosets and videos in HD quality!
2 Comments
:amateur guys, cam guys, chat, David M Flex, Derrylman, Emilio, Farris XXL, Hercules Jock and Cocky Boy Alex, muscles, ripped, straight men
Click For More...