Tag: Derick
by Ben Daniels (Admin) on Jan.08, 2013, under New York Straight Men
Derick heard that we have a brand new cocksucker and reckoned why not try him out. But he wanted to put a little test for the new cocksucker as well. The blowjob will be offered only after Derick's ass gets properly serviced and eaten!
As you may remember, Derick works as a construction worker and digs ditches. He has been working all day long and used his jackhammer. He's been working along The Cross Bronx Expressway so that the guys who work for the electric company can put the electrical cables.
I must admit, I love when a guy smells of fresh sweat. When I smell a guy after an intense workout, soccer game or indeed after he's been digging ditches, my cock springs to action even if I don't ask him anything.
The new cocksucker JR shares my enthusiasm for sweaty straight men, so he got really turned on when he could smell that manly scent. JR was more than happy to be able to bury his face in Derick's hairy and very muscular ass cheeks. I think everyone will agree that JR did a great job servicing this straight man's asshole!
After the rimjob, Derick thought the new cocksucker passed the test and now he wanted the blowjob. He kicked back on the sofa and took an iPad to watch some straight porn.
I must admit that the very sight of Derick's amazingly proportioned, hairy and muscular body made me a bit weak in my legs. Can you find anyone more perfect than this?
Anyway, JR got down to work as a pro (which he now is) and sucked that cock. Derick realized he wouldn't be needing any pussy porn so he left the iPad and focused on the sensations from the cocksucker's mouth on his dick.
Derick shot his load straight into JR's mouth (without any prior warning). JR wanted to swallow it straight away, but he remembered that we love to film spunked mouths and faces so he turned to the camera and let us catch those jizzed mouth and face while the cum still oozed out slowly.
Click here to watch Derick's entire rim & blowjob video in HD quality at New York Straight Men!
New York Straight Men is the world's biggest collection of straight men getting their blowjobs from gay dudes! These men are usually truly straight but they love getting head from a gay guy because it feels so much better than whatever their girlfriends can do. These men are not the Hollywood type cuties, they are Real Men!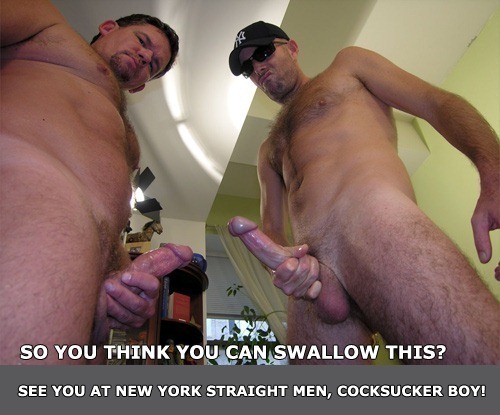 Leave a Comment
:beard, Derick, ditch digger, handsome, masculine, mature men, naked straight men, shaved head, strong body, sweaty body
Click For More...