Tag: five o clock shadow
by Ben Daniels (Admin) on May.31, 2014, under Dirty Tony
Phoenix Devonshire is a hot, masculine, straight personal trainer. He says he's been thinking about trying his luck in porn for a while now, but the opportunity just never came. Then he saw an ad we left in a local newspapers and he said he couldn't let this chance go by without giving it a try.
Phoenix is in a fantastic physical shape. His whole body is ripped and he's built like a tank. As if that wasn't enough, he's got a very sexy, handsome face so when he smiles at you with his deep blue eyes your heart just tends to melt. He seems quite determined as a person in general, and he knows exactly what he wants. He admits that he felt a little nervous while filling out the application that every model has to read through and sign, but as soon as the camera started rolling he knew he was at the right place and at the right time.
Phoenix is one unrepentant horndog – he's pretty much always horny and he says he usually has sex twice a day with his girlfriend. Before this first shoot we asked him to try not to have sex or jerk off for at least two days and he kept to his promise, although he says it was really a challenge. Two days without fucking a pussy, or at least beating off? Damn, that's too much – at least for this super horny hot motherfucker.
So when the director said he was free to spank his monkey, he didn't waste any time on any introductory stuff. He just grabbed his nice fat cock that was already hard in his plaid shorts and started to rub it slowly. We couldn't help noticing his magnificent bulging biceps that were more than obvious while he was stroking his manhood. As he's jerking off his balls are beginning to tighten up and withdraw a bit towards the taint so we know that the barrage of jizz is now imminent.
Phoenix now jacks off like a madman and his whole body tightens up just before he would shoot his load. Then, we see a big white blob of jizz on the tip of his cockhead, and soon after several more squirts of cum follow and land onto his six pack abs. He's grunting and moaning all the time as you'd expect from a real stud like him.
Preview video:


Click here to watch his entire video in perfect HD quality at Dirty Tony!
Dirty Tony is a great site for lovers of aggressive hardcore fucking and hot, masculine men. These men are often new, prospective porn actors. They're mostly really straight, and they haven't been seen on other sites. Lots of really strong, rough dudes here.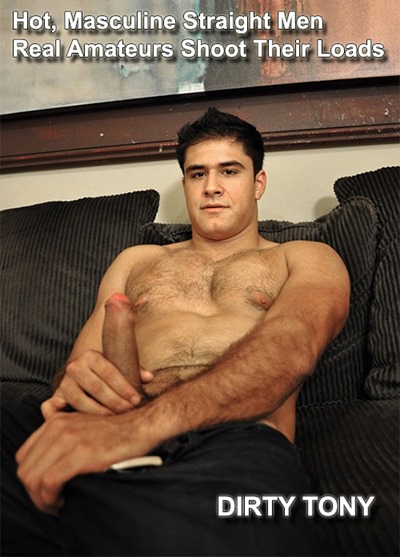 1 Comment
:cumshot, fat cock, five o clock shadow, jerking off, manly men, muscled, personal trainer, Phoenix Devonshire, ripped, straight men
Click For More...
by Ben Daniels (Admin) on Jul.14, 2010, under Extra Big Dicks
Besides sporting the biggest schlong in porn, Girth Brooks is one of my favourite porn stars for other reasons as well. He's handsome, masculine and – most importantly of all – he's got  a charming and lively personality. Have you noticed he's pretty much always smiling? Yeah, he is happy and he wants you to be happy in his presence too,
It's been almost a year since I introduced Girth Brooks on this blog. He took the gay porn biz by storm and is still going strong. This time around he's showing off all of his manly assets at Extrabigdicks! 
Originally from Massachusetts Girth more than lives up to his name. Girth starts to stretch as he gets comfortable. He keeps his chest trimmed short but long enough to form a faint happy trail down the middle of his defined abs. He has a natural 5 o'clock shadow that just adds to his sex appeal. He takes his shorts off and, as he does, we can already make out the beginnings of a pop tent growing in his boxer briefs. Those briefs look like they're hiding an anaconda. He strokes that aching meat with both hands as he starts to give his cock the attention it requires. Even with both fists wrapped around his monster cock there's room for more. He puts his left hand behind his head showcasing his sexy pits. He slowly runs his tongue along his bicep and pit which just! makes his dick throb harder. He stands to give us a better view as the cam goes in from below giving us a spectacular view of those smooth balls and that thick cock. Girth knows just how to show off what he's packing. He then gets on the couch and assumes a more revealing position as he gets on all four. He arches his back a bit as his beautiful ass gets put on display. Look all you want boys, that's as close as you're gonna get to that ass. He strokes that cock underhand as he shows off that sweet ass that's framed by sexy tan lines. Girth's cock is getting close so he flips over and lies back to give that cock the release it's now begging for. He grabs that thick cock by the base as he jacks off faster. His smooth nuts pull in tight as he prepared to unload. His abs contract as he starts to moan and groan aloud as his rock hard explodes coating his furry happy trail with his thick load. Oh yes, someone was up for the challenge of taking this cock in every hole and tune i! n next week to see if it all fit!
Short preview video:
8 Comments
:beard, big cock, big dick, five o clock shadow, girth brooks, hairy, hung, jacking off, manly
Click For More...