Masters Nick and Derek are two handsome Masters and we've just caught them while they're working up a sweat practicing some Judo holds and throws.
These two studs figured they'd need a human dummy so that they could practice their Jude choke holds easier. Lucky thing that they have the willing submissive man Wilkinson. His mouth is always eager to please dominant Masters and this time it was no exception.
Master Nick puts his ass on Wilkinson's face, completely covering his sight. Now Wilkinson has no other option but to lick Nick's asshole and lick it well.
Furthermore, the Masters come up with an idea to fuck their sub boy and use him like a common fuck toy. They continue to humiliate him and drill his ass with their hard, pulsating cocks.
In the end both Masters shoot hot jizz at either side of their new practice dummy. Hot!
Short preview video: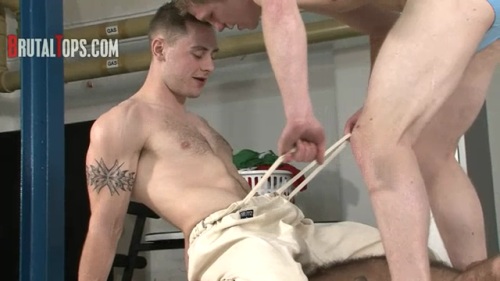 Download this and many other horny new BDSM videos at BrutalTops!
Brutal Tops is a fantastic site for lovers of the most ferocious sexually aggressive doms in the world. These dominant men love to give orders which have to be obeyed!